« previous post | next post »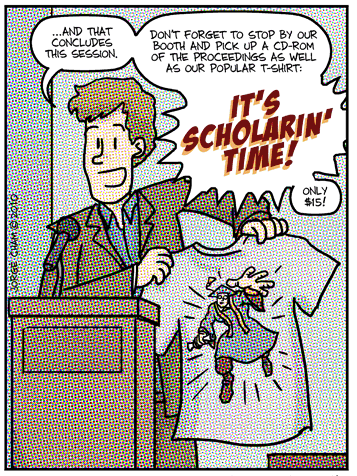 The most recent PhD Comics strip by Jorge Cham features real-life material from the scholarly side of the 2010 Comic Arts Conference, and especially the work of Neil Cohn, a psychology grad student at Tufts who "measures people's brain waves while they read comics".
You can read Neil's own account of his presentation on his blog, The Visual Linguist:
My talk seemed to go fairly well (thanks to those who came!), and I greatly enjoyed the discussions with people afterwards. This was the first year I got to present actually experimental brain data on comics, which I'd been looking forward to for awhile.
You can also check out Neil's Visual Language Research Bibliography (which doesn't seem to include any of his neuroscience work yet), or read a PR profile from the "Tufts Office of Web Communication". I also note that the web site for Tufts' Center For Cognitive Studies supplements the usual lists of affiliated faculty, courses, publications, etc., with a list of relevant Zippy cartoons, which may be a symptom of the factors that led Neil to pursue his studies there.

A quick Google Scholar search turned up Kuperberg, Choi, Cohn, Paczynski & Jackendoff, "Electrophysiological Correlates of Complement Coercion", Journal of Cognitive Neuroscience 2009, which has "experimental brain data", but unfortunately doesn't have any comics in it. And there's Richards, Finlayson & Winston, "Advancing Computational Models of Narrative", CSAIL Technical Report 2009-063, which reports on a workshop where Neil Cohn talked about narrative structure in comics, but without any of that "experimental brain data". So I guess we'll have to wait for the Comic-Con2010 proceedings to come out…
Meanwhile, here's a clever cover parody from the previous PhDComics strip: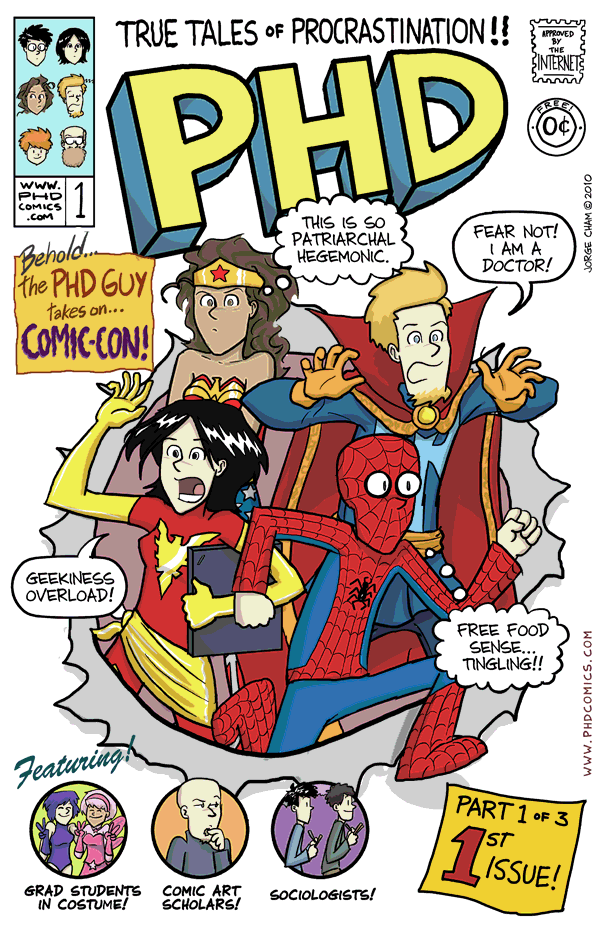 [Update — Neil sent me this citation and link:
Cohn N, Paczynski M, Holcomb P, Jackendoff R, Kuperberg G R., "Impact of structure and meaning on sequential image comprehension", 23nd Annual CUNY Conference on Human Sentence Processing, 2010.
He notes that "Amusingly enough, this poster was also included in the actual DVD proceedings from the Comic Arts Conference".]
---