« previous post | next post »
Last week I posted about the early history of cartoon cursing characters, aka grawlixes, aka obscenicons. I had managed to unearth examples of obscenicons on comics pages going back to 1909, from Rudolph Dirks' "The Katzenjammer Kids." I've had a chance to do some more digging, and I've found that Dirks was getting creative with obscenicons as early as 1902 — and he wasn't the only cartoonist indulging in them.
Barnacle Press is a fantastic repository of early comic art, one that we've drawn on in the past for such wonderfully eccentric strips as "The Outbursts of Everett True" and "The Troubles of Dictionary Jaques." Among the "Katzenjammer Kids" strips collected on the Barnacle Press site is one from Dec. 14, 1902 featuring this final panel: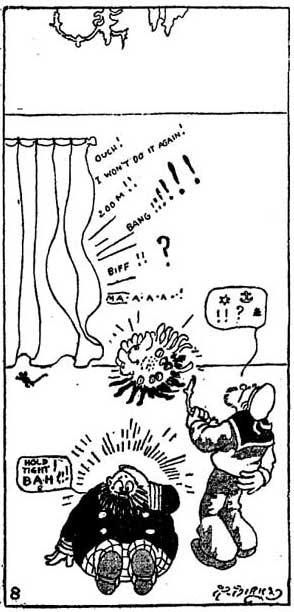 Here we have the character Uncle Heinie doing the swearing (after the usual hijinks from the Kids, Hans and Fritz, who have disrupted the hanging of a holly wreath). Like the Captain in the 1909 strip, the nautically minded Uncle Heinie incorporates an anchor symbol in his cursing repertoire, so this must have been something of a running joke for Dirks. What better graphic representation could there be for "swearing like a sailor"?
One of Dirks' cartooning contemporaries, Gene Carr, was exploring obscenicons around the same time. Among Carr's early work was "Lady Bountiful," recognized as the first comic strip with a female protagonist. Here is the "Lady Bountiful" strip that appeared in the Atlanta Constitution on Feb. 8, 1903 (again courtesy of Barnacle Press):

Thanks to the Chronicling America newspaper digitization projection by the Library of Congress, I found two more of Carr's daily strips from later in the same month also using obscenicons. The strips below appeared in the New York World on Feb. 10, 1903 and Feb. 20, 1903, respectively:
I note that Carr's strips were published in the Pulitzer-owned New York World, while "The Katzenjammer Kids" appeared in the Hearst-owned New York Journal. Perhaps the escalating use of obscenicons was one manifestation of the famous battle between the two newspaper publishers. After all, we owe the expression "yellow journalism" to the fact that Pulitzer and Hearst fought over the rights to publish the original comic strip, Richard F. Outcault's "The Yellow Kid."
---