« previous post | next post »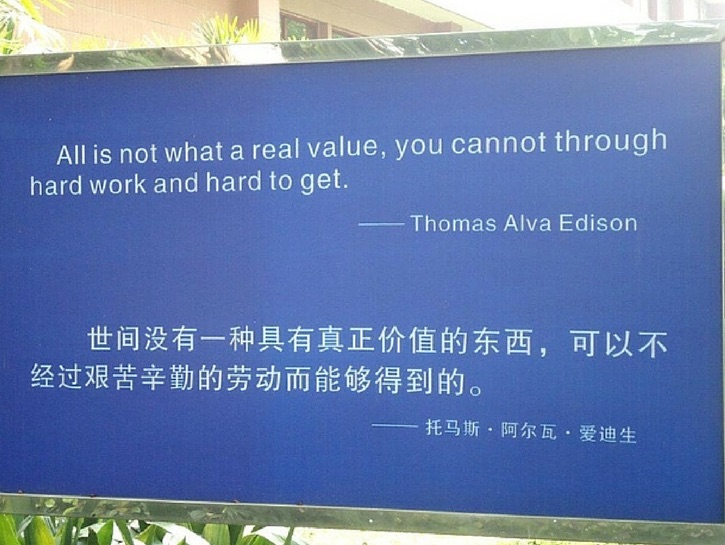 At first I was going to call this "Lost and found in translation", but since it was lost but never found, I thought I'd change that to "Found and lost in translation".  That sounded weird, so I just went for the title at the top:  "Translation of a translation".  Now I'm thinking that maybe I should have called it "From bad to worse".
The text comes from this site: "23 times Chinese signs were definitely translated by a serial killer".  (I've already dealt with about half of the other 22 items on Language Log.)
The English:
"All is not what a real value, you cannot through hard work and hard to get."
The Chinese:
Shìjiān méiyǒu yī zhǒng jùyǒu zhēnzhèng jiàzhí de dōngxī, kěyǐ bù jīngguò jiānkǔ xīnqín de láodòng ér nénggòu dédào de
世间没有一种具有真正价值的东西,可以不经过艰苦辛勤的劳动而能够得到的
"There is nothing of true value in the world that one can obtain without going through arduous, toilsome labor."
I don't know what the original Edison quote is, but it certainly sounds like something he would say, since he often emphasized the importance of hard work.
It seems to me that a big part of the problem with this mistranslation stems from the double negative.  Of the many quotes from Edison that I've encountered, most are plainspoken and straightforward.  I wouldn't normally associate him with such a convoluted manner of circumlocution.
[h.t. John Rohsenow]
---