« previous post | next post »
"How an eight-year-old boy invented a new word", BBC Trending 2/24/2016
A few weeks back, primary school teacher Margherita Aurora, in the small town of Copparo in central Italy, was intrigued when one of her students, Matteo, used an unfamiliar word in a written assignment.
Matteo described a flower as "petaloso" ("full of petals"). The word doesn't officially exist in the Italian dictionary, but grammatically it makes sense as a combination of "petalo" ("petal") and the suffix "-oso" ("full of").
The assignment got Aurora thinking – could the eight-year-old Matteo have invented a new word? With his teacher's help, the student wrote to the Accademia della Crusca – the institution that oversees the use of the Italian language – to ask for their opinion.
To their surprise, the pair got an encouraging reply. "The word you invented is well formed and could be used in the Italian language," one of the Crusca's top linguistic experts wrote. "It is beautiful and clear."
But, the linguist added, for a word to officially be part of the Italian language, a large number of people need to use it and understand its meaning. "If you manage to spread your word among many people who start saying 'What a petaloso flower this is!', then petaloso will have become a word in Italian."
Matteo's teacher was touched by the reply – "this is worth more than a thousand Italian lessons" she wrote on her Facebook account on Monday – and shared pictures of the letter. Inadvertently, she triggered a movement to do exactly what the Crusca had asked: make "petaloso" a widely known and used word.
Here are links to some of the discussion on Facebook and Twitter.  NPR's Morning Edition has more ("Italian Schoolboy May Officially Get Credit for New Word", 3/4/2016)
MONTAGNE: Matteo decided that if his word was so beautiful it should be in the dictionary. He wrote a letter to Italy's national language academy, the Accademia della Crusca.  
VERA GHENO: We were all, you know, oohing and aahing over it (laughter).  
INSKEEP: Vera Gheno, a linguist, was in the room when that letter came in and one of her colleagues wrote Matteo back. She said people would have to use petaloso in conversation for it to be included in the dictionary.  
MONTAGNE: Matteo's teacher posted the letter on Facebook and soon petaloso became one of the top trending topics on Twitter in the world. People everywhere started using the word to help Matteo get it in the dictionary. Even the Italian prime minister tweeted about petaloso, congratulating Matteo.  
INSKEEP: Now, petaloso is not officially a word yet. Still, Vera Gheno, the linguist, says she hopes Matteo learns that language is constantly evolving.
This is heart-warming but weird.
The first level of weirdness is the idea that whether a word is "in the language" depends on whether it's included in an authoritative dictionary or (in this case) recognized by a duly constituted authority.
But it's even weirder that a linguist should apparently think that  a morphologically regular and semantically transparent combination should be considered to be a duly-constituted word (and therefore be listed in the official dictionary) if and only if people use it often enough.
That's an appropriate attitude to take towards a completely new coinage, or a semantically opaque composite form —  for a humorous take on this situation, see  "Ozay, dot-nose, kangamangous", 12/5/2008. But in any language with a reasonably complex morphology, there are millions of potential words made available by morphologically and semantically regular processes. If some of these are in common use, then maybe it makes sense to add them to the official lists — especially because forms in common use are likely to pick up extra connotations or more specific references. But whether such regular and transparent forms are "in the language" or not doesn't  depend on whether anyone has thought of using them yet, much less on whether they've been picked up by some official list.
In this case, it seems that the regularity is only partial, as is often the case in derivational morphology. Italian -oso is often added to nouns to make adjectives — thus pericolo "danger" → pericoloso "dangerous" = "full of danger"; gioia "joy"→ gioioso "joyous" = "full of joy". But ritmo "rhythm" doesn't have a corresponding ritmoso, as far as dictionaries tell me anyhow, nor does acido "acid" have a corresponding adidoso.
If I've got this right, then it's a bit like the distribution of -ous in English, where we have danger→ dangerous, glory→ glorious, joy → joyous, but not anger → *angerous, folly → *follious, toy → *toyous. The non-occurence of angerous isn't just because no one got around to it yet, it's because -ous started out as a version of Latin -ōsus and its Romance derivatives, and has only rarely and erratically been applied to English words of non-Romance origin. This role of etymological history doesn't seem to apply in Italian, so the lack of ritmoso must reflect more general form of morphological quasi-regularity, such as blocking by ritmato or ritmico. I'm not sure where this leaves petaloso — no doubt some commenters with deeper knowledge of Italian will be able to set me straight.
(Maybe it's like petalous, a possible and semi-actual word that is rare enough to be rejected by spell-checkers, despite being in the OED.)
Here's the (start of) the letter from the Accademia: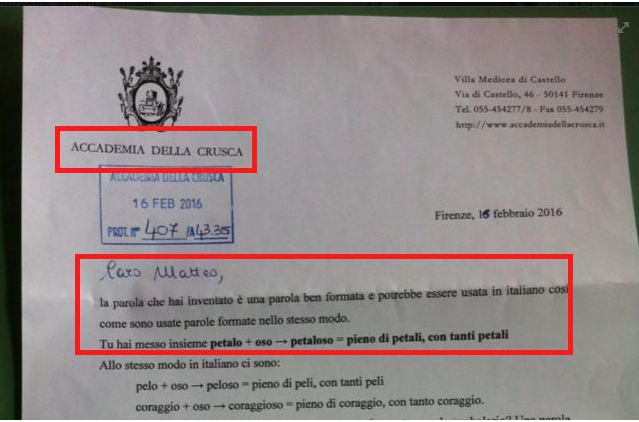 I can't tell from this much of the letter whether it raises morphological quasi-regularity, blocking, and related issues. The media coverage makes it seem like petaloso is just a regular formation that no one got around to yet, like English unrevacuumed or thirty-seven-petaled — but maybe it's more like angerous?
We've often seen skeptical, negative, or hostile reactions even to regular neologisms —  to -ize words ("Centuries of disgust and horror", 3/16/2009), to gifting ("'Not a verb' is not an argument", ), to trepidatious ("Not a word!", 11/17/2004). For a (very petaloso) summary of the issues, see Stan Carey, "'Not a word' is not an argument", Sentence First 7/12/2010. Stan observes that
If you see or hear someone reject a word by saying it's "not a word", you can reasonably assume that they mean it's not a word they like, not a word they would use, not a word in standard usage, not a word in a certain dictionary, not a suitable word for the context, and so on. There's a difference, and it matters.
If this is not obvious to you, then I invite you to work through a few examples in your own language.
In English, the noun vacuum has come to be used as a shortened form of the compound vacuum cleaner — and both the compound and the elliptical form need to be in the dictionary, for obvious reasons. The noun vacuum is then predictably used as a verb, meaning (as the OED explains) "To clean (a room, carpet, etc.), or to remove (dust, etc.) with a vacuum cleaner".  The verb and its meaning are predictable, but the usage is common enough to be worth documenting.  (And of course there are other nominal and verbal senses of vacuum as well.)
Now we can add un- and -ed to the verb, to form unvacuumed meaning "that has not been cleaned by a vacuum cleaner", or we can add re- and -ed to form revacuumed "cleaned again with a vacuum cleaner".
Neither unvacuumed nor revacuumed is in the OED; unvacuumed is in the English Wiktionary while revacuumed isn't; but both of them are clearly English words. And writers have been using unvacuumed and revacuumed for years, without feeling the need to check with any authorities. Google doesn't currently find any instances of unrevacuumed, but I wouldn't hesitate to use it if the concept were relevant — whereas I wouldn't use *vacuumous unironically.
Picking up the petaloso theme, we find that the compound word many-petaled has been in English dictionaries at least since Webster's 1828, and that there are many values of N for which N-petaled has long been in use (again without any concern for what is or isn't in dictionaries):

It happens to be the case that "eleven-petaled" is not common enough to make the Google ngrams threshold (of 40 published instances in a year), and needless to say it isn't in any dictionaries. But there are a few examples Out There, and presumably the people (for example) who catalogued the Tang Dynasty "Floor tile with eleven-petaled lotus" at the Dunhuang Research Academy felt no need to check with the OED before using this (compound) word.
So whatever the linguistic lesson really is in this case, it's more subtle than just the question of whether petaloso is in the dictionary, or whether enough people use it for a Word Induction Ceremony to be scheduled.
Of course, someone searched and found a book from 1695 that seems to have used petaloso. And after #petaloso went viral, some people brought up another coinage from a few years ago, when Antonio Banderas used the word inzupposo in a cookie commercial:
(See e.g. Peppe Cariki, "Dopo "petaloso" i social lanciano "inzupposo": tra la "Crusca" e il Mulino Bianco…", MeteoWeb 2/25/2016).
As far as I can see, inzupposo "dunkful" (from inzuppare "to dunk" + -oso) is much less morphologically regular than petaloso, since there's no noun to supply the base form. So if inzupposo is to get its Word Induction Ceremony, it really does need some social (media?) support. The support for Matteo's coinage is cute, but it's not clear to me whether petaloso needs any backers to Be A Word.
For more, see Gianluca Nicoletti, "Il papà del bimbo petaloso registra il termine del suo geniale pargoletto", La Stampa 3/4/2016; and Stefano Bartezzacghi, "Da brontolite a sdallare, dopo petaloso l'assalto delle nuove parole", La Repubblica 3/6/2016, which includes this video:
[fbvideo link="https://www.facebook.com/Repubblica/videos/vb.179618821150/10153986728196151/" width="500" height="400" onlyvideo="0"]
---