« previous post | next post »
Copied verbatim from an email flyer (with a bit of anonymization):
300

cars by the end of JULY
Our GM is pulling his hair out
because he has never seen prices sooo LOW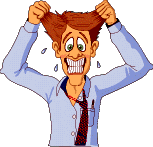 We are excepting any reasonable offer.
Plus don't forget about the incentives and lease specials
This makes me feel igry — that is, I feel what is called vergüenza ajena in Spanish, or plaatsvervangende schaamte in Dutch, because it's a typo (or thinko) that I can easily imagine myself committing and then failing to catch due to sloppy proofreading. There are plenty of similar examples out there: "We are excepting applications" alone has more than a thousand hits.
This also gives me an opportunity to follow up on an old LL post, "Igry: serendipity or glemphy?", 1/29/2004. Six and a half years later, the verdict is clear: glemphy.
---