« previous post | next post »
In an Op-Ed piece for the New York Times published on May 14 ("Search Engine of the Song Dynasty"), Ruiyan Xu laments that Baidu (Roman letter name of the popular Chinese search engine ["the Chinese Google"]) is not as meaningful as 百度 ("hundred times," pronounced Bǎidù), which was taken from a poem written more than eight centuries ago about persistent searching amidst chaos ("Search Engine of the Song Dynasty", 5/14/2010):
BAIDU.COM, the popular search engine often called the Chinese Google, got its name from a poem written during the Song Dynasty (960-1279). The poem is about a man searching for a woman at a busy festival, about the search for clarity amid chaos. Together, the Chinese characters băi and dù mean "hundreds of ways," and come out of the last lines of the poem: "Restlessly I searched for her thousands, hundreds of ways./ Suddenly I turned, and there she was in the receding light."
Baidu, rendered in Chinese, is rich with linguistic, aesthetic and historical meaning. But written phonetically in Latin letters (as I must do here because of the constraints of the newspaper medium and so that more American readers can understand), it is barely anchored to the two original characters; along the way, it has lost its precision and its poetry.
Finding many of Ms. Xu's claims to be highly dubious, some to be rather troublesome, and yet others to be downright annoying, I decided to try to determine what might have prompted her to make them.
Noticing at the conclusion of her essay that Ms. Xu is the author of the forthcoming novel The Lost and Forgotten Languages of Shanghai, I became all the more intrigued.  This, I thought to myself, clearly has the makings of a Language Log post.  Since the novel (to be published by St. Martin's Press), won't be out until October of this year, I couldn't go out and read it at once, but I was able to find out a considerable amount about it.
First of all, the cover, pictured below, simply floored me.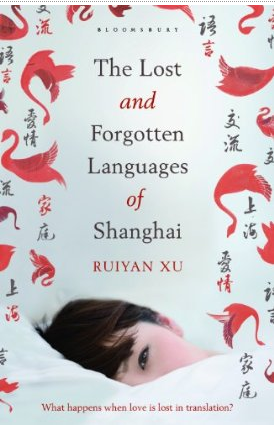 Never mind that beautiful eye staring out from a white background, nor all those untranslated Chinese words  ("language," "exchange, associate with, make friends," "Shanghai," "love," "family") scattered about, nor yet the red, swooning swans tumbling down the page.  What really stunned me was the question at the bottom:  "What happens when love is lost in translation?"
"Lost in translation" is my bread and butter, but I didn't have any good answer to the question.  I was stumped.  I didn't even have the beginning of an answer.
Fortunately, I was able to find a summary of the plot:
Li Jing, a high-flying financier, has just joined his father for dinner at the grand Swan Hotel in central Shanghai when, without warning, the ground begins to rumble. It shifts like a pre-historic animal, then explodes in a roar of hot, unfurling air. As Li Jing drags his unconscious father out of the collapsing building, a single shard of glass whistles through the air and neatly pierces his forehead. In an instant, Li Jing's ability to speak Chinese is obliterated. After weeks in hospital, all that emerge from his mouth are unsteady phrases of the English he spoke as a child growing up in Virginia. His wife, Zhou Meiling, whom he courted with beautiful words, finds herself on the other side of an abyss, unable to communicate with her husband and struggling to put on a brave face – for the sake of Li Jing's floundering company, and for their son, Pang Pang. A neurologist who specialises in Li Jing's condition – bilingual aphasia – arrives from the US to work with Li Jing, to coax language back onto his tongue. Rosalyn Neal is red-haired, open-hearted, recently divorced, and as lost as Li Jing in this bewitching, bewildering city. As doctor and patient sit together, sharing their loneliness along with their faltering words, feelings neither of them anticipated begin to take hold. Feelings Meiling does not need a translator to understand.
This plot does have connections to long-standing issues in  language pathology.  "Ribot's rule" (Théodule-Armand Ribot, Les maladies de la mémoire, 1881) asserted that the language learned earliest in life is the first to recover from brain injury. This principle was supported by Freud (Zur Auffassung der Aphasien, 1891), who argued that a lesion would never affect a native language while while sparing the "superimposed pattern of associations" in a language learned later. But Ribot's rule was challenged by Pitres (Albert Pitres, Etude sur l'aphasie des polyglottes, 1895), who cited clinical cases where the rule did not hold, and proposed instead that the language to recover first would be the one that was most familiar and most used prior to the injury, since it would have the most solidly established pattern of cortical associations.  According to Loraine Obler et al., "Brain Organization of Language in Bilinguals" (in Ardila and Ramos, Eds., Speech and Language Disorders in Bilinguals, 2007), Krapf (1957) cited cases where neither Ribot's rule nor Pitres' rule applies, and suggested that "the patients' personal situation prior to lesion onset and the emotional significance of the various languages in the patients' life history would influence how patients' languages recover from aphasia". And the accumulation of case studies has continued to the present day: perhaps the fictional Rosalyn Neal will get a publication out of it, whatever happens to the feelings.
Since Ms. Xu (who was born in Shanghai) came to the United States at the age of ten, graduated from Brown University, and chose to write her first novel in English, the language loss of the main male character in her novel is in some ways a reverse modeling of what happened to her, except that his loss of Chinese was instantaneous, whereas hers would have been gradual.  Ms. Xu states here that she has forgotten how to read Chinese.
This is as far as I got on this post when I became distracted by other pressing matters.  It was always my intention to go back and spell out all of the problems I had with Ms. Xu's Op-Ed piece in the New York Times.  Now I am relieved that I no longer have to, since Mark Swofford, over at pinyin.info, has just written a masterful dissection: "Chinese characters: Like, wow", 7/2/2010.
Mark has said everything that I wanted to say about Ms. Xu's linguistic point of view, but in a much clearer and more thorough fashion.  If you're interested in the Chinese character domain name situation, comparative writing systems, the difference between language and writing, and morphemic homonymy (Mark's treatment of bi, bi-, buy, by, bye and dew, do, due is astonishingly impressive), I invite you to read his essay on Ms. Xu's Op-Ed piece.  Oh, by the way, it is long, but there is a wonderful surprise ending.
---