« previous post | next post »
Following up on yesterday's Snuck-gate post — and on "Snuckward Ho!", 11/29/2009 — I thought I'd take advantage of Mark Davies' new Corpus of Historical American English to provide a graphical summary of the origin and progress of the strong past tense of sneak.
COHA comprises about 400 million words of text. In principle, it should be organized as 20 million words in each of the 20 decades from 1810 to 2009, but in fact the per-decade counts currently start lower, and don't pass 20 million words until 1900. A detailed list of sources is available here. The per-decade collections are of course not perfectly balanced, since the sorts of available texts have changed so much over the past two centuries; but Mark has tried to create the best balance he can.
The first thing to note is that the frequency of both forms has increased over time, starting with a "sneaked" increase in the late 19th century: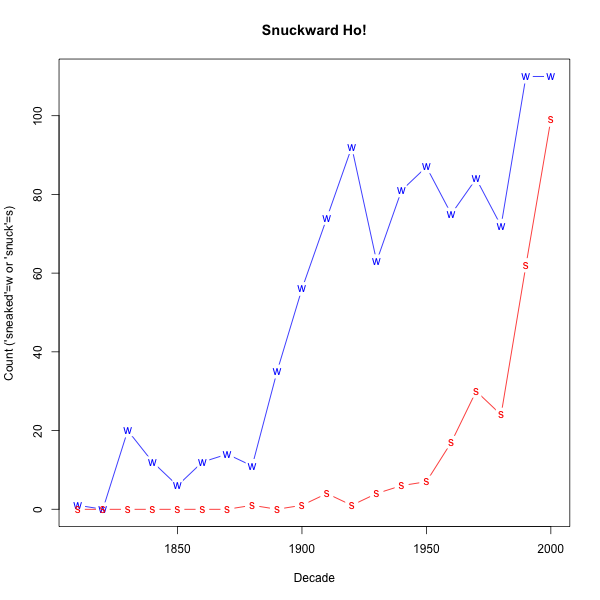 This is true even if we look at the frequency e.g. of sneaked per million words:

It's not clear whether this is a linguistic change (that is, a change the words that people choose to express a certain concept) or a cultural change (that is, a change in the concepts that people choose to write about).
However, there's also a clear snuckward trend, as we expect: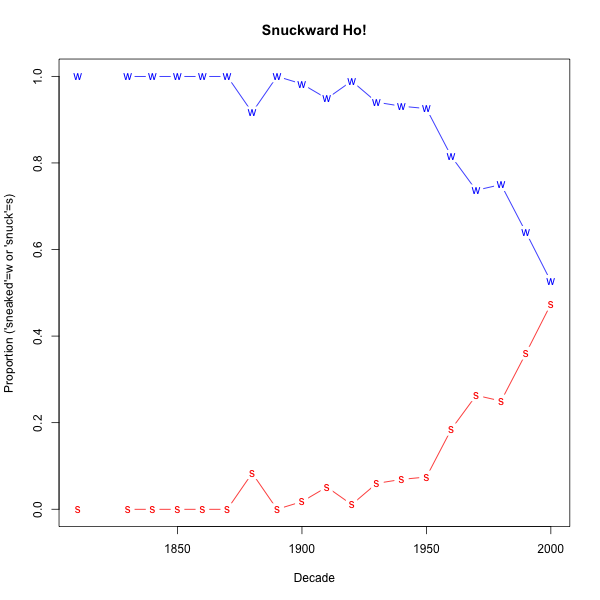 And it seems that this is a linguistic trend rather than a trend of some other sort. Given that American writers choose to write about the concept of sneaking, and choose to use the lexeme sneak, and choose to frame a sentence using the past tense of a verbal form of that lexeme, they're becoming increasing likely to express that form as "snuck" rather than "sneaked".
---