« previous post | next post »
From Arthur Stock, a picture of a headline in an actual paper newspaper: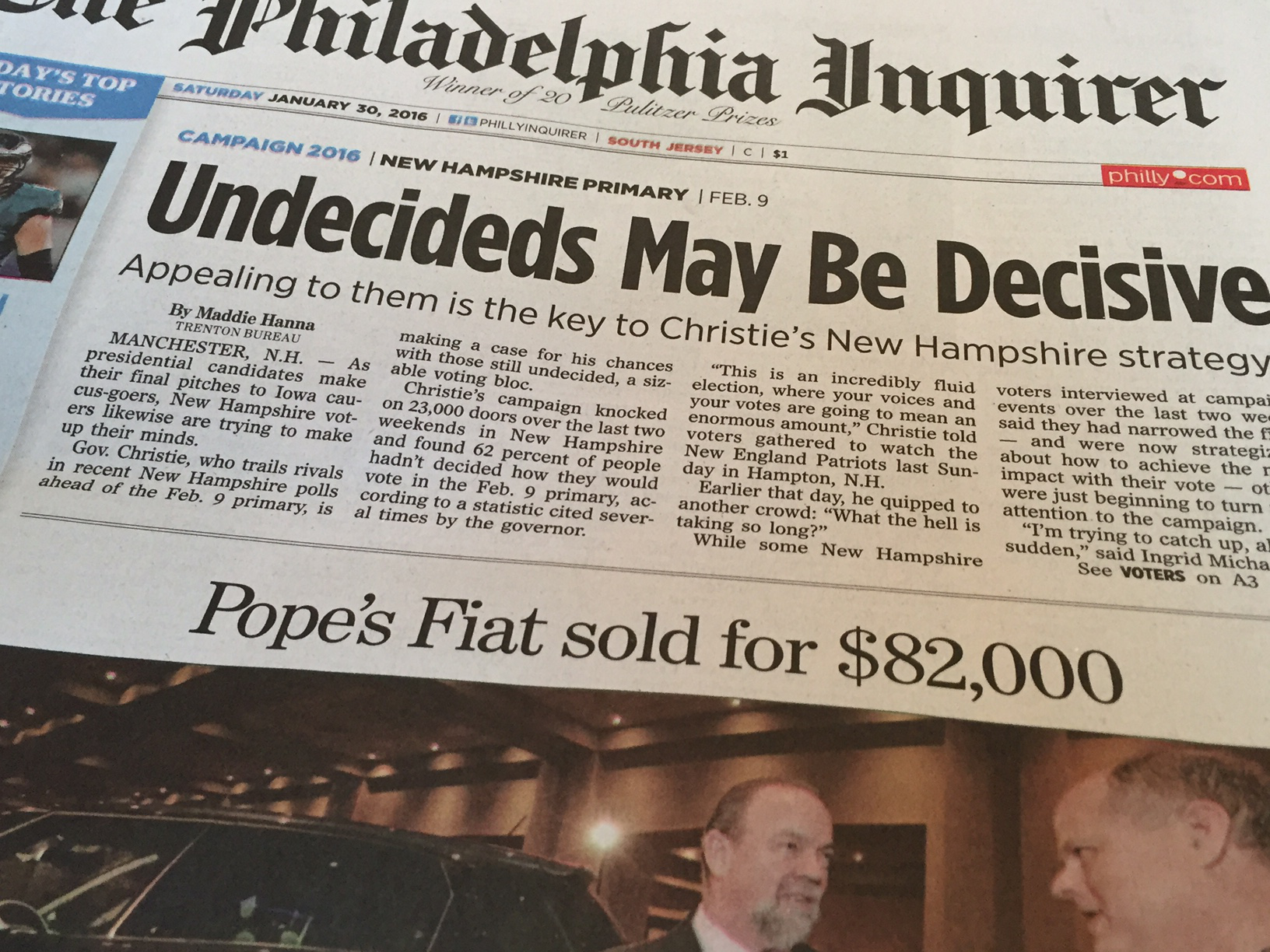 ---
10 Comments
Fernando Montenegro said,

Sorry for butting in. / Headline writing can be "blah", or a trap, or an art. This one, if intentional, is pure inspired artistry! / What is URI?

I wonder if the headline writer was influenced by other languages in which an adjective can be routinely turned into a noun and hence pluralized (indecisos, Unentschlossene, нерешенные). In standard English this normally works only if the adjective is preceded by the and then is automatically plural (the undecided); but this wouldn't work in headlinese, which doesn't allow the.

Can we get a Hallelujah! Not as good as 'Headless Body in Topless Bar', but it works.

Rodger C said,

I'd spend a lot more than $82,000 for the Pope's fiat.

Monte Davis said,

I read it as intentional, albeit a little blunted by the simultaneous "How could that have gotten through?" response. .

Xtifr said,

You can be decisively (determinedly) indecisive. When I was young, I used to describe myself as a "devout agnostic". :D

Pseudonym said,

Papal fiat for sale? All right, I've got the hammer and nails ready, if someone would kindly point me in the direction of Wittenberg…

@Coby Lubliner: I don't think the interesting part of the headline is the plural "undecideds", which is long-established pollsterese: see "LIFE" magazine, 18 Oct 1954 p.159 or "The West Wing", season 7 episode 8. A (non-US?) synonym is "don't knows".

BZ said,

I don't see anything wrong with this headline. I feel like plural undecideds is regular headlinese and the meaning is clear enough (votes from the undecided still matter)

Roger Lustig said,

@Pseudonym: What with all his Franciscan envy, it's no surprise that the Pope didn't shell out the extra for the Fiat Luxe.