« previous post | next post »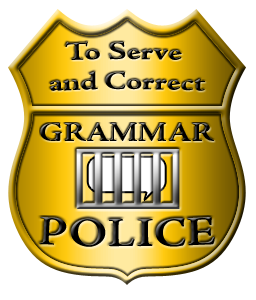 Over at You Don't Say, John McIntyre has been attending to the Queen's English Society (and other "people who set themselves up as morally superior to you"): "Minutes of the Academy"; "A nice mess"; "The self-righteous shall inherit the earth"; "Speak proper, or else". John links to Stan Carey's post at Sentence First, "The Queen's English Society deplores your impurities".
John and Stan — and Graham and Dogberry and Paul — were stimulated by two articles at The Times (of London), "Pedants' revolt aims to protect English from spell of txt spk", 6/7/2010, and "Do we need an Academy of English? The experts argue for and against", 6/7/2010.
If you follow all those links — and I hope that you do, because every one of them is worth the trouble — you'll learn that the QES is even more illogical, hypocritical and badly informed than you'd expect them to be.  I'll just add three (at best semi-coherent) thoughts, which I'd develop into LL posts if I had the time.
1. Is the Queen's English Society a sort of peevological House of Lords to the Plain English Campaign's House of Commons? Or are they perhaps the would-be Cavaliers and the Roundheads of peeving? If so, can we get them to start fighting each other, rather than bothering the rest of us?
(For more on the Plain English Campaign, see "No foot in mouth", 12/2/2003; "Fed up with 'fed up'?", 3/24/2004; "Irritating cliches? Get a life", 3/25/2004; "Still more on less", 9/4/2008;  "Moving low-hanging fruit forward at the end of the day";  9/26/2009; "Memetic dynamics of summative cliches", 9/26/2009.)
2. Steven Krauwer has suggested to me that the best way to preserve an endangered language is to position it as a luxury product.  (I hope that I can persuade Steven to explain this wise remark at greater length in a guest post.) This idea rings true because the problem for such languages is precisely that they're cognitively  expensive, economically impractical, and surrounded by easily-available alternatives that are much cheaper and more useful. But in my experience, the language preservationists' pitch generally has a demotic rather than elitist vibe.
3. What's the relationship between linguistic fussiness and linguistic nationalism?  One is directed against internal threats, while the other aims at external ones, but there seems to be a common impulse.  Linguistic nationalism is often expressed in non-standard language, at least these days. But note that language-internal peeving has an upward-directed variant as well as a downward-directed one. (And you could see the animus directed at "the vacuous way that managers talk" from either side, as resentment of the bosses or as disdain for those vulgar enough to earn their living in trade.)  In any case, issues of social class seem to be involved.
---