« previous post | next post »
It may be time for newsreaders worldwide to start polishing up their pre-stopped laterals again. The automatic earthquake-location system at the Iceland Meteorological Office's Department of Geophysics has been starting to show some small earthquakes under Eyjafjallajökull's bigger neighbor, Mýrdalsjökull: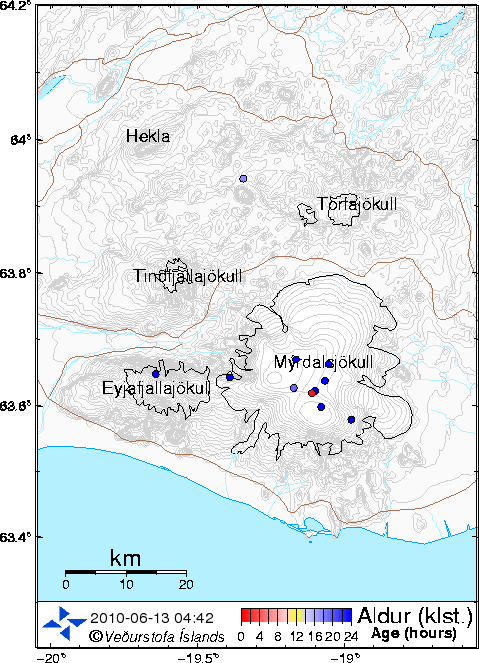 Mýrdalsjökull (the "mire valley glacier") covers the volcano Katla. According to the Wikipedia article,
In the past 1,000 years, all three known eruptions of Eyjafjallajökull have triggered subsequent Katla eruptions. Following the 2010 Eyjafjallajökull eruptions, on 20 April 2010 Icelandic President Ólafur Grímsson said "the time for Katla to erupt is coming close … we [Iceland] have prepared … it is high time for European governments and airline authorities all over Europe and the world to start planning for the eventual Katla eruption".
[Update — if you look now (6/16/2010 20:00) you'll see a picture that's more promising (unless you like volcanic eruptions).]
---