« previous post | next post »
At the recent LSA annual meeting in Washington DC, Carmen Fought and Karen Eisenhauer presented a paper with the title "A quantitative analysis of gendered compliments in Disney Princess films". The abstract:
Recent studies find that children use animated films in constructing their gender identities (e.g. DoRozario, 2004; Baker-Sperry, 2007). However, little is known about how gendered language is presented in children's media. Data on compliments in the Disney Princess films were analyzed for gender of speaker and recipient, and for type of compliment given/received (Holmes, 1986). The proportion of compliments received by female characters declined in the more recent films, although females overall received significantly more compliments on their appearance. These results illuminate how ideologies about language and gender are packaged and presented to children.
The aspect of their results featured in the title and abstract — the distribution of gendered compliments — offers some evidence for cultural progress. Fought and Eisenhauer divided Disney Movies into three groups:
"Classics": Snow White (1937), Cinderella (1950), and Sleeping Beauty (1959)
"Renaissance": The Little Mermaid (1989), Beauty and the Beast (1991), Aladdin (1992), Pocahantas (1995), and Mulan (1998)
"New Age": The Princess and the Frog (2009), Tangled (2010), Brave (2012), and Frozen (2013)
Over time, the proportion of appearance-related compliments directed at female characters has declined, and the proportion of compliments related to accomplishments or skill has increased: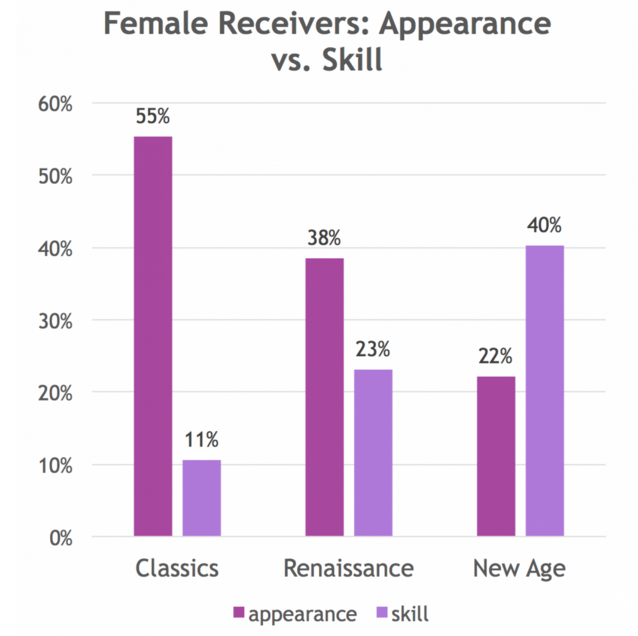 This work has gotten some of the media play that it deserves: Google News finds 63 articles this morning. But the positive trend in compliment-types has mostly been de-emphasized (e.g. Jeff Guo, "Researchers have found a major problem with 'The Little Mermaid' and other Disney movies", Washington Post 1/25/2016) or ignored (e.g. Meriah Doty, "'The Little Mermaid' Isn't as Empowering for Girls as it Seems, Linguists Discover", Yahoo News 1/26/2016) in favor of a less hopeful compilation of how many words characters of different sexes are given to speak. Here the New Age group is no better than the Classics, and the Renaissance set is distinctly worse: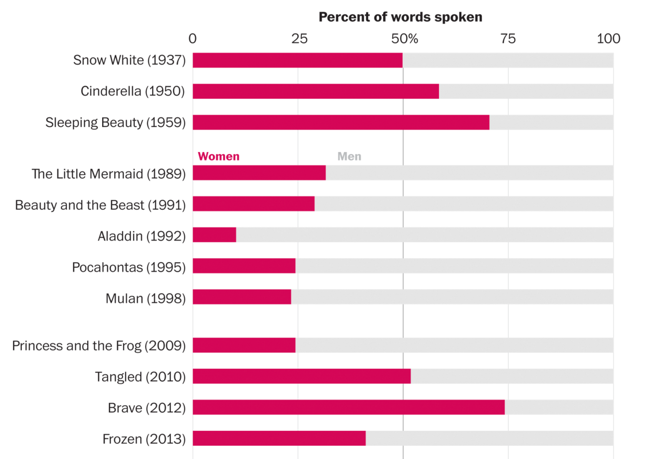 I guess this is an instance of the maxim "If it bleeds, it leads".
Anyhow, it's good to see this ingenious idea getting some well-deserved publicity.
---