« previous post | next post »
SMBC from a few weeks ago: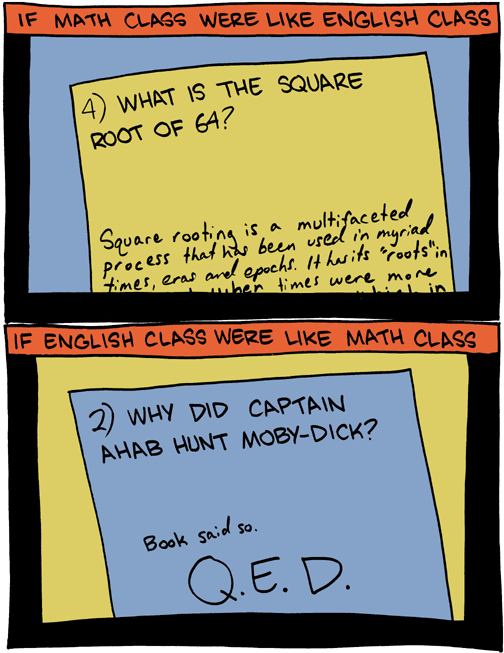 In my limited experience, it's fairly common to get some intellectual history in math courses — when and why and by whom a problem was posed, who tried to solve it how, what unexpected connections and applications it turned out to have when, and so on. However, I don't think that I ever encountered an exam question that asked about stuff of this sort. Has there ever been a calculus exam that asked something like "What was the physical problem that led Joseph Fourier to invent the series named for him? Describe the experimental apparatus that he used to test his idea."
This cultural expectation runs deep. Some years ago, when I was teaching Introduction to Cognitive Science, an engineering student came to me after the midterm exam to complain. There had been a question asking the students to connect a list of people (e.g. Turing, Frege, etc.) with a list of ideas (universal computation, predicate calculus, etc.).  I thought that the question was pretty much a gift, but the student had gotten it wrong, and she was clearly not used to getting things wrong.
"This is ridiculous", she said. "If I know how to solve a problem, what does it matter whether I know who first figured it out?"  She had assumed that the intellectual-history aspect of the lectures was a sort of non-nutritive filler, introduced for the benefit of those inferior students who couldn't digest a more concentrated and abstract diet.
After that, I tried to be more careful to explain in an early lecture how the course was going to work.
---