« previous post | next post »
A recent xkcd, under the heading "The Tell-Tale Beat":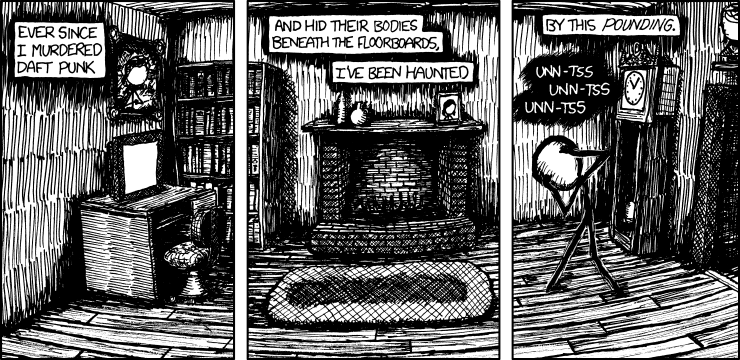 (As usual, click on the image for a larger version.)

The mouseover title: "You fancy me mad. Could a madman have outsmarted the greatest electronica/techno artists of our era? Next to fall will be Roderick Usher's house/trance band."
This strip helped me to understand several instances of onomatopoeia that had previously puzzled me — for example this:

I'm used to being puzzled by foreign onomatopoeia and ideophones, but I've always found English-language phonetic symbolism pretty transparent, even the wide array of forms found in the comics.  But this one baffled me, until Randall Munroe gave enough context, and a careful-enough spelling, for me to catch on.
(If I'd cared enough, of course, I could just have asked YouTube. And in this case, the Urban Dictionary also  works.)
---