« previous post | next post »
The internet has responded with a wave of snarky hashtags to the self-appointed militia occupying the  visitors' center at the Malheur National Wildlife Refuge in Oregon. Many are inappropriately anti-rural (#YokelHaram, #YeeHawdists), or irrelevantly anti-southern (#YallQaeda), but in a case like this, snarky stereotype-based ridicule is a better weapon than gun battles, I guess.
And the occupiers sometimes seem to have subcontracted their PR tactics to The Onion. For example, one spokesman apparently uses the operational name "Fluffy Unicorn". Thus Amanda Peacher, "Armed Ranchers In Oregon Take Over Wildlife Refuge Building", NPR All Things Considered 1/4/2016:
AMANDA PEACHER: Protesters emerged from brick buildings at the refuge headquarters for a Sunday press briefing. This self-styled militia man identified himself as Fluffy Unicorn.
FLUFFY UNICORN: Head count, anything of that nature – none of that will be addressed for operational security.
PEACHER: Although the protesters won't reveal their numbers, fewer than 20 militiamen were visible Sunday. The protesters originally arrived in Burns, Ore., to defend local ranchers Dwight and Steven Hammond. Their prison sentences start today for arson on federal rangelands. But the Hammonds said they didn't want the militia's defense and intend to report as required. So the protesters turned their focus to this remote Malheur Wildlife Refuge 30 miles away.
AMMON BUNDY: This refuge, from its very inception, has been a tool uh of tyranny.
PEACHER: That's Ammon Bundy, the leader of this occupation. He believes the government violated the Constitution in its purchase of the refuge land back in 1908. Bundy says their mission is to put the federal lands under local control. But it's unclear by what means.
BUNDY: We do have a- a plan. That plan is going to take several months at the shortest to accomplish.
And an early appeal from one of the group's leaders asked for supporters to send "supplies or snacks or anything that may be useful" — by U.S. Mail: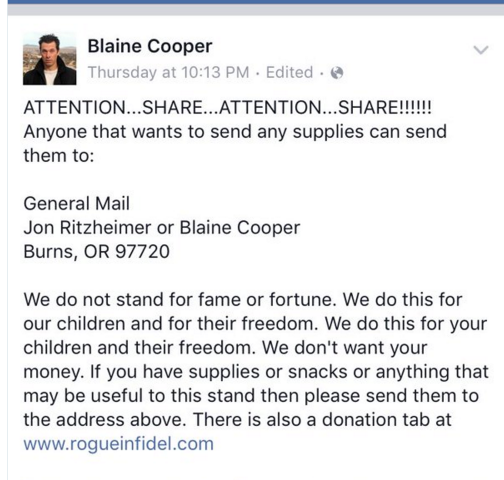 This led to a certain amount of speculation about the group's degree of operational preparedness, e.g. Tim Dickinson, "Armed, Pathetic and Hungry: How the Oregon Militants' Revolutionary Plan Went Sideways", Rolling Stone 1/5/2016, or
ROFL #YallQaeda pic.twitter.com/bWLl9orTnN

— Cassandra Fairbanks (@CassandraRules) January 5, 2016
It also inspired this variation on the Gadsden Flag: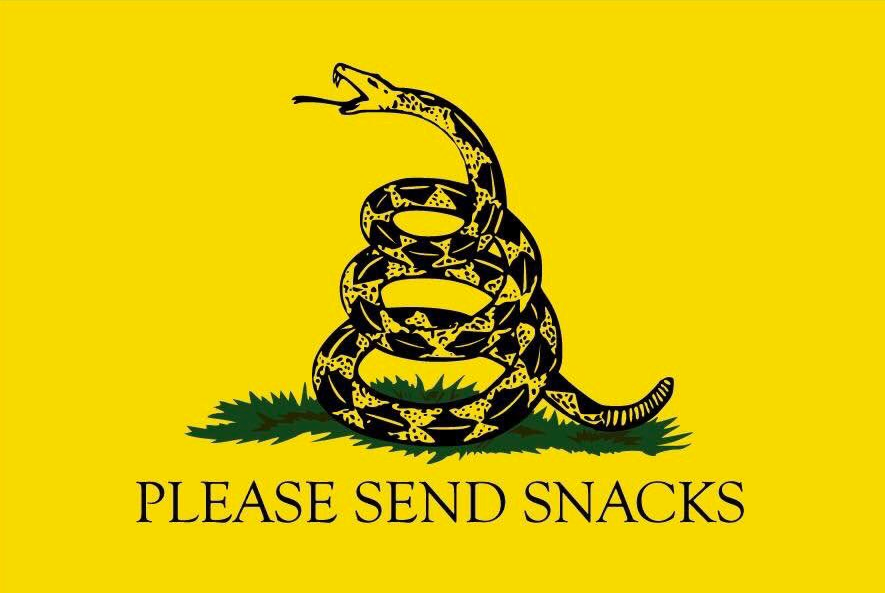 Anyhow, here's a sample of the hashtags:
Roundup: #YallQueda #YeeHawd #VanillaISIS #YokelHaram #CowTippingTerrorists #FailQueda #Infantada #WhiteSIS #SaturdayNightTreason More? — David Roberts (@drvox) January 3, 2016
Pfft. #OregonUnderAttack is so literal. Give me #VanillaISIS #MulletJadeen #Shanialaw #YeeHawdists #YallQaeda — Whitney R (@whitnuld) January 4, 2016
#YippeeQaeda woulda worked too LOL https://t.co/k8zQ7ILTfg — Feral (@feraltwirler) January 4, 2016
#YallQaeda #alKKKaeda #YeeHawdists #whISIS #VanillaISIS #YeeHawd #YokelHaram #CrackerHaram #TaliBundy well done @Twitter residents — BJ Williams (@BJ__Williams) January 3, 2016
And yet another parody hashtag for the Oregon #yallqaeda militia standoff has popped up on Twitter: #Talibanjo — Joseph Rose (@josephjrose) January 5, 2016
---