« previous post | next post »
Following up on their recent article about Chinglish, the NYT has a collection of "Strange Signs From Abroad" contributed by readers, confirming that sign-makers in less far-away languages are also sometimes too trusting of dictionary entries in languages they don't know very well: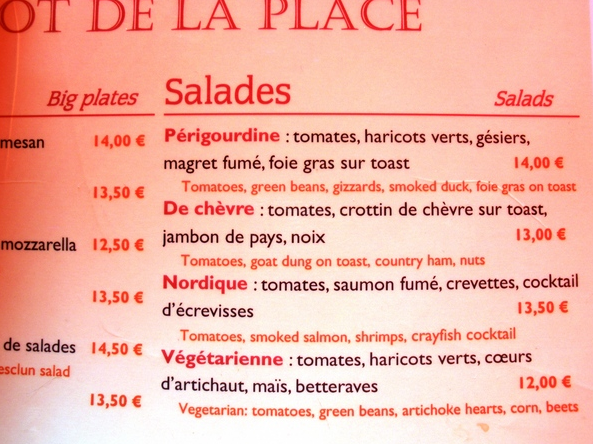 If you look up crottin in the Concise Oxford-Hachette French-English Dictionary, you'll find:
1. crottin nom masculin
( de cheval ) dung
And that's all. (Well, they did say it was concise.) Google Translate is even more concise: crottin → dung.
If you turn to the Pocket Oxford-Hachette French Dictionary, you do get a second (presumably figurative) sense:

1. dung;
2. (small round) goat's cheese.
But someone without much knowledge of English can be pardoned for believing what the dictionaries say, or at least what they say first, and translating crottin de chèvre sur toast as "goat dung on toast".
But English, though we do sometimes call horse droppings "road apples", we haven't made the figurative leap to small logs of goat cheese, and any native speaker would flag "goat dung on toast" as an unlikely ingredient for a salad.  As in the case of the many amusing Chinglish mistakes, however,  this translation was apparently not checked by anyone who knows much English.
[By the way, in this case the context doesn't help Google Translate: crottin de chèvre sur toast is rendered as "goat dung on toast".]
---