« previous post | next post »
This one's been on my to-blog list for a while. "The Ascent: Political Destiny And The Makings of a First Couple," a "sponsored content" piece for Netflix's series House of Cards prepared by The Atlantic, won both the Judge's Selection and the People's Choice awards for "Best Sponsored Content Editorial" at the Native Creatives: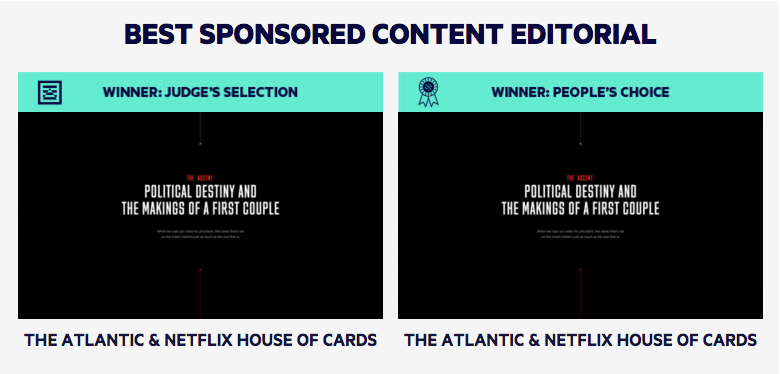 What are the "Native Creatives"? According to the web site,
The Native Creatives honors creativity and innovation in native advertising. Native creatives are publishers and brands who have established themselves as visionaries in content creation, creative execution, and user engagement.
What's the relevance to Language Log? Well, to start with, this award introduces a term that you might not know, though by now you're thoroughly familiar with its referent: "native advertising". According to Wikipedia,
Native advertising is a type of advertising, usually online but feasibly elsewhere, that matches the form and function of the platform upon which it appears. In many cases, it manifests as either an article or video, produced by an advertiser with the specific intent to promote a product, while matching the form and style which would otherwise be seen in the work of the platform's editorial staff. The word "native" refers to this coherence of the content with the other media that appears on the platform.
And a second reason is that I'm listed as a source of "Linguistics Expertise" for the winning piece, The Ascent:

In fact, aside from a bit of script-hacking, my only role was to advise Sam Rosen to turn away from the idea of analyzing real-world exchanges of letters, towards an analysis of the scripts and performances in the House of Cards series itself; and to connect him with Jamie Pennebaker, who in turn recruited his student Ryan Boyd to do the linguistic analysis that led to the segment of "The Ascent" called "Frank and Claire: Patterns of Power", which included these figures, along with an explanation of the methods used: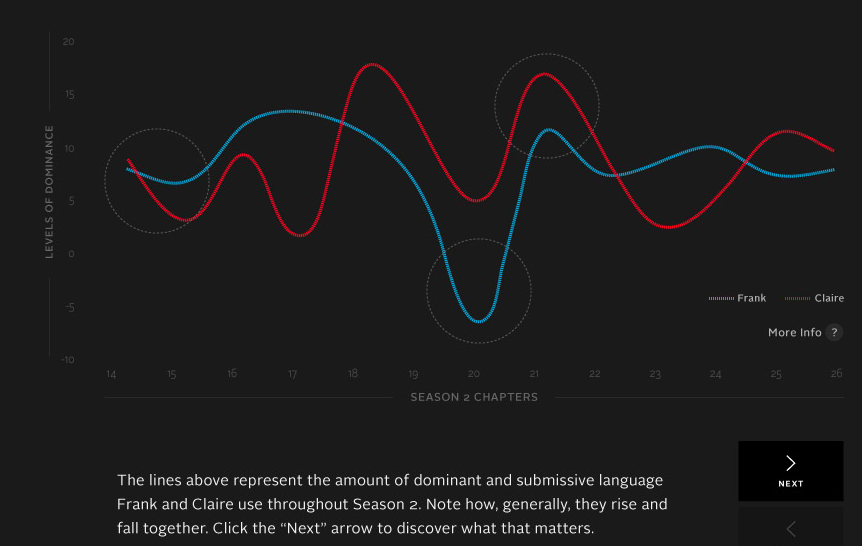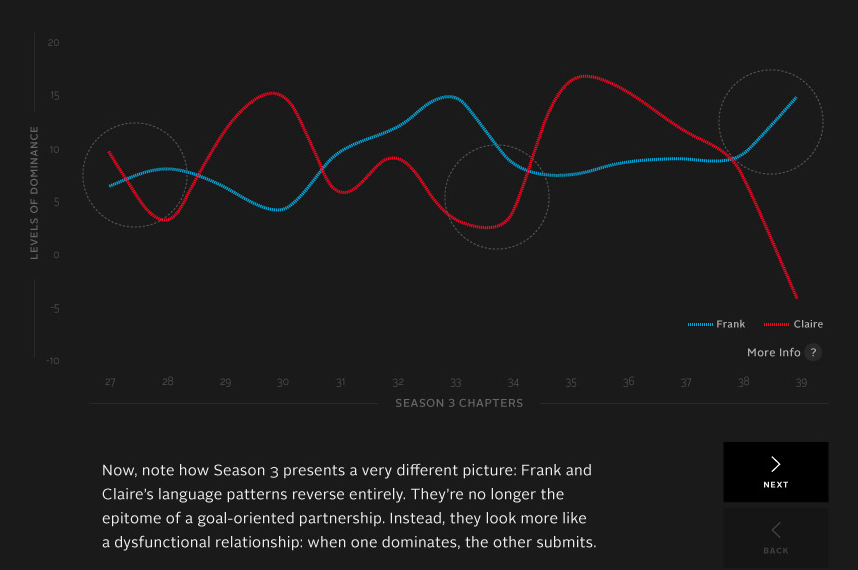 Native Advertising is an interesting hybrid case — journalists don't normally pay for technical help on stories, but maybe pieces of this kind should be different. I treated this case like any other interesting question from a journalist — and I think that the results were more accurate and interesting than usual, linguistically and otherwise — but perhaps I should have asked for a consulting fee. The subhed of an Advertising Age story tells us that the funds were there: "Netflix Goes Native on The Atlantic to Promote 'House of Cards': Pays Six-Figure Sum for Lengthy Multimedia Article on First Couples".
Anyhow, I sent a note to Jamie Pennebaker on another topic recently, and added "Congratulations on the House of Cards awards!" Jamie's reply:
What House of Cards awards?
Did I win the "Best Text Analysis" Emmy again?
Not yet, I'm afraid. But I'll take this as another piece of evidence that linguistic analysis has mass appeal.
---