« previous post | next post »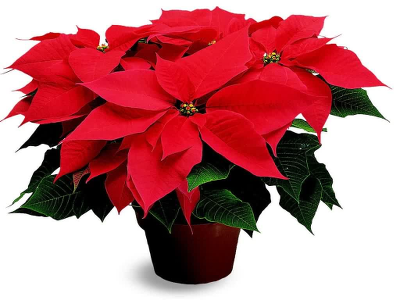 If you look up the pronunciation of poinsettia in the dictionary, you'll find two versions, one that follows the spelling in a regular way (/ˌpɔɪnˈsɛ.tɪə/) and one that would more naturally correspond to the spelling "poinsetta" (/ˌpɔɪnˈsɛ.tə/).
A couple of days ago, a journalist contacted me about this. I knew that the word was formed by adding the usual pseudo-Latin -ia to the last name of Joel Roberts Poinsett, just as Clarke Abel's name gave us abelia and William Forsyth's name generated forsythia. And I knew that there is a common (and even dictionary-sanctioned) alternative pronunciation for poinsettia. But why the i-less version of poinsettia and not (for example) a similar version of forsythia?
A quick web search didn't turn up anything specific about the history. But I suspect that this is a sort of orthographic/phonological neighborhood effect. There are lots of common traditionally-female first names that end in -etta — the U.S. Census Bureau list of the 5,000 commonest female first names from the 1990 census has 54 of them, from
| | |
| --- | --- |
| Name | Rank |
|  Loretta |  189 |
|  Henrietta |  227 |
|  Etta |  536 |
|  Rosetta |  579 |
to
| | |
| --- | --- |
| Name | Rank |
|  Wanetta |  4185 |
|  Maryetta |  4218 |
|  Lovetta |  4224 |
|  Jeanetta |  4241 |
as well as some familiar words like beretta, operetta, vendetta.
None of the 5,000 commonest female (or male) names ends in -ettia, and after poinsettia, the commonest -ettia words in an English Wikipedia snapshot are weird enough that I wasn't familiar with any of them (each word is preceded by its count of occurrences in the Wikipedia snapshot that I tested:
392 poinsettia
142 millettia
28 cettia
27 manettia
12 comparettia
8 lettia
7 hulettia
6 vettia
6 pugettia
6 silhouettia
5 quekettia
And -ttia isn't any better:
643 mattia
417 zakarpattia
392 poinsettia
142 millettia
119 attia
76 lottia
75 neottia
64 perittia
64 prykarpattia
64 melittia
55 harttia
36 orcuttia
28 cettia
It's true that -ythia yields only a single first name, Cythia (in 2058th place), and no familiar (to me) words other than forsythia and Scythia— thus again from the Wikipedia snapshot:
565 scythia
247 pythia
121 forsythia
105 paramythia
25 stichomythia
19 alaythia
7 skythia
But on the other hand,  -ytha is worse — no names, and slim pickings in Wikipedia:
91 gytha
88 cassytha
35 clytha
35 waytha
16 aaytha
10 paramytha
8 edgytha
6 mildgytha
In contrast, -thia yields a reasonable harvest of names — besides Cythia, there's  Cynthia (in 28th place), plus the variant spellings Cinthia / Synthia, and Alethia. And there are a few other perhaps-familiar place names ending with -thia in the Wikipedia snapshot, like Parthia and Carpathia.
So all in all, I think the neighborhood-effect explanation is plausible, though there might well be some additional factors unknown to me.
The journalist also wondered whether the "poinsetta" pronunciation is a mistake, and whether people who use it should be corrected. My response was that there are lots of similar cases of variants with a phoneme or two missing — february, surprise, etc. — and the fact that such variants are listed in dictionaries is a good reason not to correct people who prefer them. And there are other cases where pronouncing the lost phonemes is actually a mistake — wednesday (at least in the U.S.), worcester, etc.
What Horace said about word usage also applies to word pronunciation:
multa renascentur quae iam cecidere cadentque
quae nunc sunt in honore vocabula, si volet usus,
quem penes arbitrium est et ius et norma loquendi.
Many words shall revive, which now have fallen off;
and many which are now in esteem shall fall off, if it be the will of custom,
in whose power is the decision and right and standard of language.
---