« previous post | next post »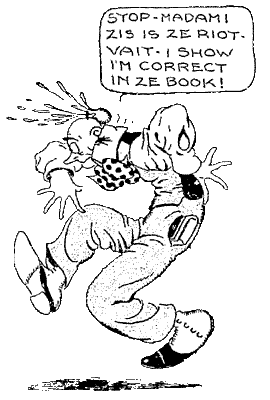 Among the many classic cartoons at Barnacle Press is Ed Carey's The Troubles of Dictionary Jaques [sic], from 1912-1913.
The strip's premise: Jaques is dependent on a dictionary for the interpretation of one critical word or phrase in each instruction he's given, while being unaware of the existence of polysemy and completely devoid of common sense.
In the example from which the illustrative detail on the right is taken, Jaques' employer introduces the new kitchen maid and tells him to "present her to the chef". Jaques looks up present:
"Zee deectionary say 'present' mean 'exhibit to view' — now I look up 'exhibit' Ah! Ze word 'exhibit' mean  – 'force into notice'. I do so at once."
But it turns out that he wasn't actually supposed to shove her into the kitchen, grasp her firmly and lift her up so that the chef is forced to notice her.
It would make sense for Carey to have used the glosses from an actual dictionary. A bit of web search suggests that he might have found the "force into notice" phrase in the entry for display in the New Websterian 1912 Dictionary, although the entry for exhibit merely gives the gloss "to present to view; display; show; manifest publicly; present formally or officially; administer".
Carey also seems to have used a bit of poetic license in the several strips that depend on Jaques' inability to distinguish between the presence and absence of [h] at the start of words, or rather his tendency to get it exactly backwards, which is presented via the comedic premise that his aristocratic employer speaks a a sort of hypercorrecting Cockney in which [h] and non-[h] are reversed: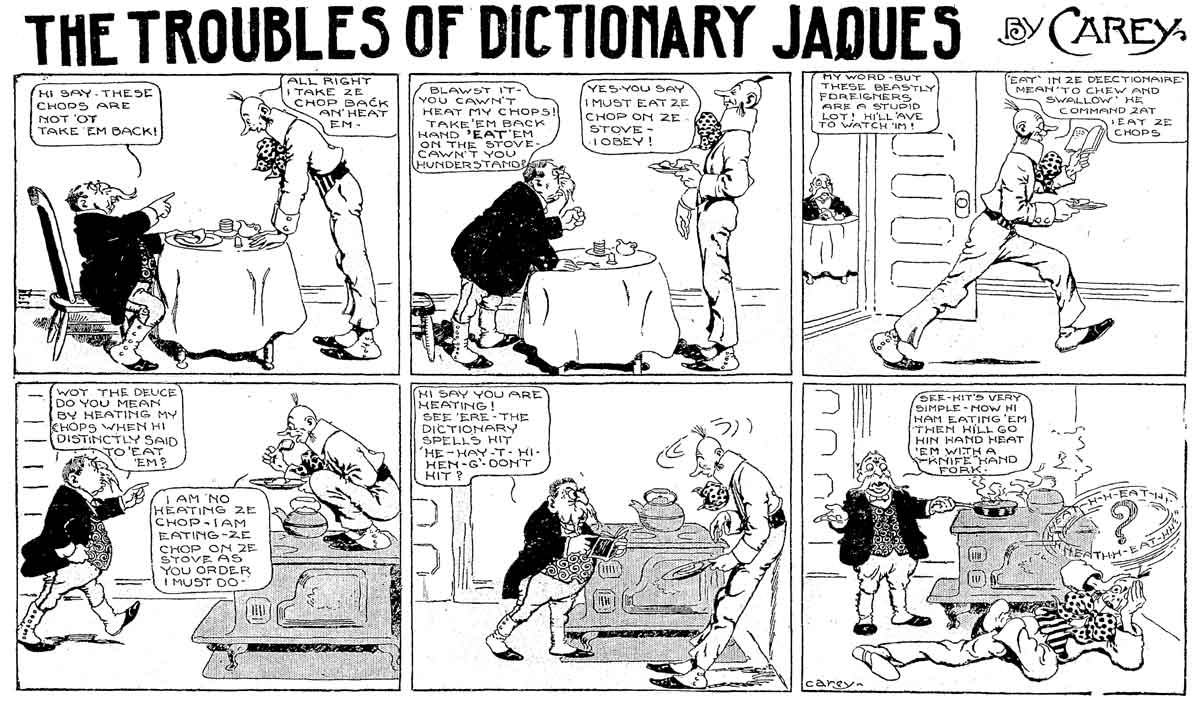 At least, that's the best sense that I can make of it.
---