« previous post | next post »
Drew Mackie has posted an item about this not very appetizing-sounding Chinese dish on his personal blog.  He writes:  "A bit of searching has led me only to find out that this food is not, in fact, enema content that is fried, but I don't know exactly what it is or how it might have gotten its name."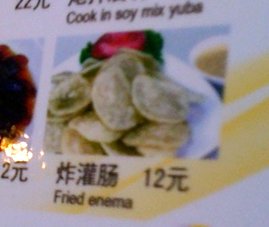 Here's the unsavory-sounding dish in the context of the original menu: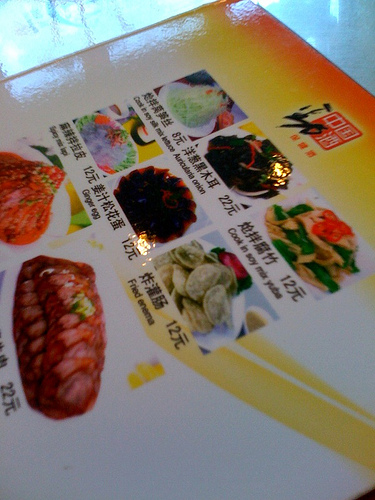 Drew asked for help from Language Log.   Luckily this puzzle is particularly easy to solve.
The Chinese name of the dish in question is zhá guànchang 炸灌腸, which is a kind of sausage made of wheat flour stuffed into hog casings and fried.  The last two characters, pronounced guàncháng,  also have a completely different meaning, viz., "enema" or "give an enema" (literally, "to irrigate the intestine").
This is a good example of the spoken language being clearer than the written language — at least when one is relying on not-very-good machine translation.
Google Translate renders 炸灌腸 correctly as "fried sausage".  Unfortunately, restaurants in China can no longer use that method to improve the lexicographical appeal of their English-language menus.
---