« previous post | next post »
One of my graduate students sent me the following picture (click to embiggen):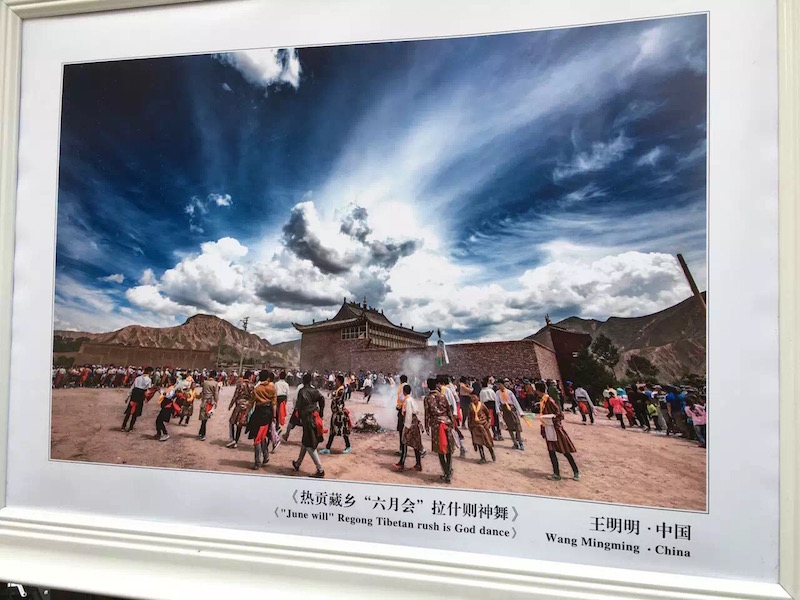 The English translation of the title is a mess.  Before trying to figure out what the original Tibetan references were, we need first to translate the Chinese more accurately:
Règòng Zàng xiāng 热贡藏乡 ("Regong Tibetan Township")
Liùyuè huì 六月会 ("June [or Sixth Month] festival")
Lāshízé shén wǔ 拉什则神舞 ("Lashize spirit dance")
Major mistakes:
1. translating "huì 会" ("meeting; festival; gathering") as "will" (a completely separate meaning for the character, which has dozens of different meanings)
2. mistranscribing "lāshí 拉什", which is part of the Chinese transcription of a Tibetan word, into English "rush"
3. mistranslating zé 则 as "is" when it should be part of the same word mentioned in item 2.
There are other, lesser mistakes that I won't spell out individually now, but which will emerge in the course of the discussion below.
The first two characters refer to the Tibetan place known to the Chinese as Tóngrén 同仁 county (Qinghai province), which the Tibetans call Repgong (reb gong), a well-known town in Amdo that has produced more than a few noted scholars.  The 6th month is not June, but the Sixth Month of the lunar calendar when there is a celebration there called Luröl (glu rol ["music / song play"] — contested interpretations:  lus rol ["body play"] and klu rol ["nāga play"]).
There has been a lot written on this performance (Lawrence Epstein has a piece in Buddhism in Contemporary Tibet; Charlene Makley and many others have also written about this event called Luröl, in which TIbetans insert pokers into their faces and there is an inversion of the roles of gods and demons (and institutionalized Buddhism with indigenous spirit rites), where lamas become antagonists for a few days in the theatrics as well.  The "spirit dance" is probably referring to this.
See also:
Nicolas Sihlé, "Repkong rituals of offering to worldly deities" (3/28/12)
Lawrence Epstein and Peng Wenbin, "Ritual Ethnicity, and Generational Identity", in Melvyn C. Goldstein and Matthew Kapstein, "Buddhism in Contemporary Tibet: Religious Revival and Cultural Identity", pp. 124-135.

Lāshízé shén wǔ 拉什则神舞 ("Lashize spirit dance") is more difficult to identify.  Even Gedun Rabsal, who is actually from Reb-gong, puzzled a bit over this and finally thought Lashize was perhaps Lha-rtse ("heavenly"…). This might fit with the description here.  It seems, however, that the proper term would be lha-rtsed ("entertain the gods", see Epstein and Peng, p. 132).  This is the specific dance festival indicated by Lashize.  These are performed by mediums who give voice to the "god's speech" (lhake [lha-skad]).
To conclude this post with a brief look at the beautiful Tibetan script and a precise identification of where the ritual depicted here took place, two different sources in Rebgong confirmed that the picture is from Rusholma རུ་ཞོལ་མ་ village in Linggya གླིང་རྒྱ།.
[Thanks to Elliot Sperling, Gray Tuttle, Matthew Kapstein, Douglas Duckworth, Fangyi Cheng, Sonam Tsering, Pema Bhum, Gedun Rabsal, and several other Tibetan friends whom they contacted]
---