« previous post | next post »
In an article by Malcolm Moore entitled "Chinese language 'damaged by invasion of English words'" published this morning in the Telegraph, a Chinese official expresses grave concern at the invasion of English words in his nation's language.
Huang Youyi, chairman of the International Federation of Translators, makes this alarming prediction: "If we do not pay attention and we do not take measures to stop Chinese mingling with English, Chinese will no longer be a pure language in a couple of years." He goes on to state, "In the long run, Chinese will lose its role as an independent language for communicating information and expressing human feelings."

To ensure that such a horrible fate does not become a reality, Mr. Huang brought forward stern recommendations before the Chinese People's Political Consultative Conference that was held recently in Beijing. Mr. Huang's proposals would ban publications from using English names, places, people, and companies. Aside from the fact that this would put a large crimp in the global aspirations and operations of China Inc., embarking on the long, slippery slope of language purification — if carried out as energetically and thoroughly as the typical politco-cultural movements of the past 60 years — the Chinese language, quite the opposite of being purified, would end up being seriously impoverished. No longer would the Chinese be permitted to speak of "lion" dances, "honey" and "honeymoons," "coral," "magi / shamans," "sachima," "biology," "religion," "philosophy," "economics," and "republics" (such as their own people's republic!), "military affairs," "journalists," "factories," "workshops," "science," "physics," "literature," "utopias," "centuries," "X-rays,""laser," "computers," and countless other terms that form the backbone of everyday discourse.
Perhaps what really worries Mr. Huang is when foreign words are represented in a foreign script. But there's an easy way around that: simply transcribe the offending terms in Chinese script. Here's a good example of how that could be done: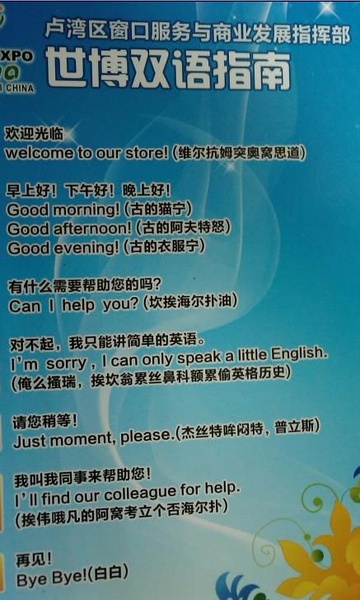 The first line reads:
欢迎光临
huānyīng guānglín
维尔抗姆突奥窝思道
wéiěrkàngmǔtūàowōsīdào
"welcome to our store!"
Incidentally, I know Mr. Huang personally. He prides himself on his English and was, in fact, an English major when he went to university. Mr. Huang was my brother Denis' boss at Foreign Language Press back in the 80s. His entire professional career has been intimately involved with the study, teaching, and translation of English and other foreign languages.  Since Mr. Huang has been enormously effective in his chosen profession of Sino-English translation, he should not be surprised at the inroads of English in China and in Chinese.
Thanks to Arthur Waldron for bringing Malcolm Moore's article to my attention.
---