« previous post | next post »
Matthias Mehl et al., "Eavesdropping on Happiness: Well-Being Is Related to Having Less Small Talk and More Substantive Conversations", Psychological Science, published online 18 February 2010:
Is the happy life characterized by shallow, happy-go-lucky moments and trivial small talk, or by reflection and profound social encounters? Both notions—the happy ignoramus and the fulfilled deep thinker—exist, but little is known about which interaction style is actually associated with greater happiness. In this article, we report findings from a naturalistic observation study that investigated whether happy and unhappy people differ in the amount of small talk and substantive conversations they have.

The method:
Seventy-nine undergraduates (32 males, 47 females) wore the EAR for 4 days (Vazire & Mehl, 2008). The EAR recorded 30 s of sounds every 12.5 min, providing 23,689 waking recordings (M = 300 per participant). For each recording, coders identified whether the participant was alone or talking with other people, and whether the conversation consisted of small talk or substantive discussion. Small talk was defined as an uninvolved, banal conversation (i.e., only trivial information was exchanged; e.g., "What do you have there? Popcorn? Yummy!"). A substantive conversation was defined as an involved conversation of a substantive nature (i.e., meaningful information was exchanged; e.g., "She fell in love with your dad? So, did they get divorced soon after?"). […]
We assessed well-being with several methods. Participants completed the Satisfaction With Life Scale (Diener, Emmons, Larsen, & Griffin, 1985; α = .93) and a single-item happiness measure ("I see myself as someone who is happy, satisfied with life") twice, 3 weeks apart. The single-item self-report of happiness was combined with reports from two to three informants per subject on the same measure, α = .80. (For details on the recruitment of these informants, see Vazire & Mehl, 2008). To obtain a multimethod well-being index, we combined (i.e., averaged) the self- and informant-based happiness measure with participants' self-reported life satisfaction.
The results: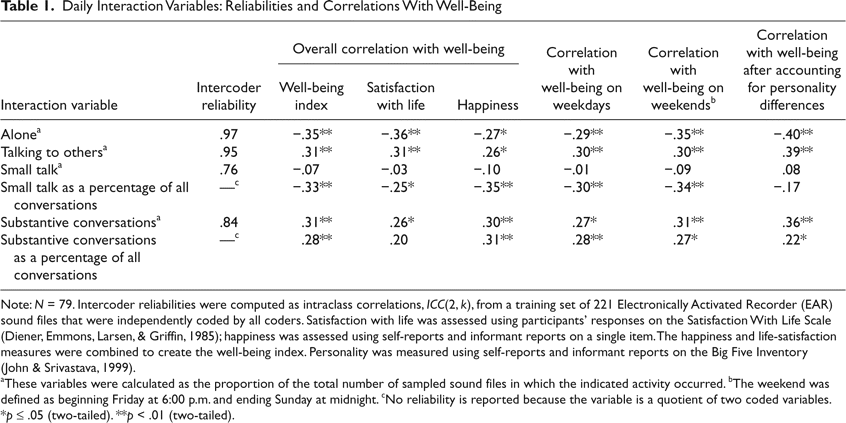 Here's a graphical presentation of what correlations like r=-0.33 and r=0.28 mean: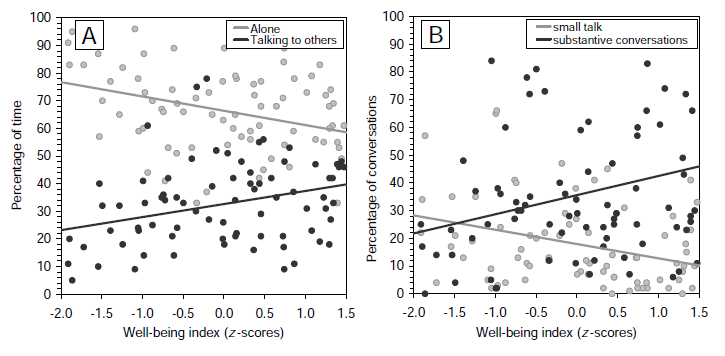 Scatterplots and linear trends for the association between participants' well-being and aspects of their daily interactions; Panel A: Percentage of time per day spent alone and talking to others; Panel B: Percentage of conversations that were small-talk and substantive conversations.
Note: N = 79; the z-scores for the well-being index ranged from z = -2.02 to z = +1.57; for ease of graphical presentation, two data points outside of the depicted [-2.0; 1.5] range are omitted.
However, as results in social psychology go, correlations of 0.30 or so are much better than usual. Here's a figure  that I've reproduced a couple of times before (from F.D. Richard, C.F. Bond, and J.J. Stokes-Zoota, "One hundred years of social psychology quantitatively described", Review of General Psychology, 2003):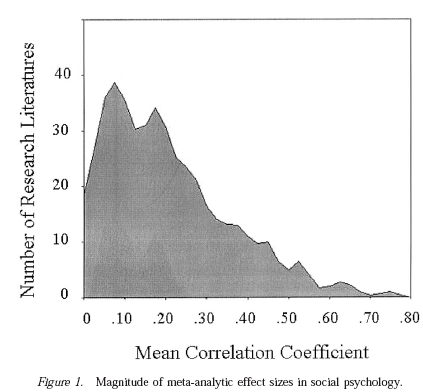 Their conclusion:
Naturally, our correlational findings are causally ambiguous. On the one hand, well-being may be causally antecedent to having substantive interactions; happy people may be "social attractors" who facilitate deep social encounters. On the other hand, deep conversations may actually make people happier. Just as self-disclosure can instill a sense of intimacy in a relationship, deep conversations may instill a sense of meaning in the interaction partners. Therefore, our results raise the interesting possibility that happiness can be increased by facilitating substantive conversations. Future research should examine this possibility experimentally.
Remarking on Socrates' dictum that "the unexamined life is not worth living," Dennett (1984) wrote, "The overly examined life is nothing to write home about either". Although we hesitate to enter such delicate philosophical disputes, our findings suggest that people find their lives more worth living when examined―at least when examined together.
A nice piece of work, nicely presented.
Needless to say, the journalistic uptake is another story. With some honorable exceptions, the articles tend to ignore the ambiguity of causation, and the headlines jump in several different misleading directions:
"How small talk can make you feel miserable"; "Idle chit chat can make you unhappy"; "Unhappy? Maybe it's too much small talk"; "Chit-chat can leave you miserable"; "Why too much talking can make you unhappy"; "Happy people have the gift of gab";  "Talking to others can keep you happy"; "A happy life is filled with earnest talks"; "Can you talk your way to happy?"; . . .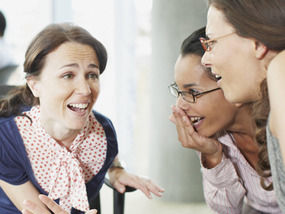 Geoff Maynard's (mis-) take in the Express is especially funny:
BAD news today for ladies who lunch. It seems that a life of idle chit-chat can make you unhappy.
I would have thought that the topic of the conversation among the "ladies" in the accompanying illustration was likely to be right in the sweet spot of Mehl et al.'s definition-by-example of substantive conversation ("She fell in love with your dad? So, did they get divorced soon after?").
---