« previous post | next post »
Today's Sally Forth:


And yesterday, there was a relevant lolcats posting: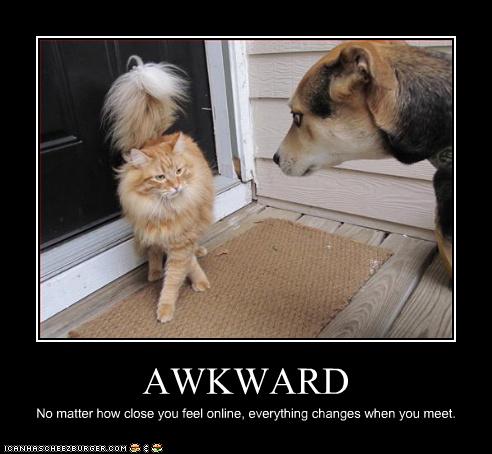 "Awkward" as a comment on a socially embarrassing or interpersonally uncomfortable situation is an entirely regular and straightforward use of a word that's been around in this sense since the early 18th century. And preceding "awkward" with the interjection "wow" is similarly regular. Still, I have the impression that these are recently fashionable idioms.
It's not easy to check whether this is really true, or just another instance of the Recency Illusion. But here's some evidence, focusing especially on the "Wow, awkward." (or "Wow. Awkward.") variant.
There's a "wow, awkward" web site, with an associated twitter feed, though it doesn't seem to have been updated since August of 2009.
All the examples of "wow awkward" from a Google Books search seem to be fairly recent, e.g. Cylin Busby's 2007 juvenile fiction The Campfire Crush:
"Wow, awkward," Eric says under his breath.
The earliest instance of "wow, awkward" in a Google Groups search seems to be from 10/12/2007 in forums.xkcd.com.  And the earliest genuine example in a Google News Archive search is from 2/7/2007.
Moving backward in time, Matt Hutson led a 10/8/2006 blog post with "Wow. Awkward." (Hi, Matt!) Matt was close to the leading edge, but the very earliest instances in a Google Blogs search seem to be from December of 2005.
So pending Ben Zimmer's arrival with an example from Emily Dickinson's diary, I'm going to go on thinking that "Wow. Awkward." is indeed a newly fashionable locution; and that simple "Awkward." probably is as well.
[Update — see this discussion of the "awkward turtle" gesture, which was new to me:
Being 'awkward' was so in last year in the States.  Everything was awkward.  Getting to class late was called awkward.  Things that were ironic (bitchy chick getting ass handed to her on Finance exam) were mislabeled as awkward.  Embarrassing moments (not remembering how it is that you ended up naked at Tavers) were called awkward.  And actual awkward moments (saying/doing the wrong thing at the wrong time to the wrong person) were called out and reveled in – as if calling a moment awkward brought great communal catharsis.  It's like you actually wanted awkward moments to happen so that you could call them awkward – and when none happened you called all other occurrences awkward.  If I recall correctly, it was kind of fun.
Thus, the emergence of the lastest Generation Next meme: The Awkward Turtle.  The Awkward Turtle is a gesture (see video) that's performed when an awkward moment happens.  Rather than just saying 'awkward' in a sing-song voice, you (you being a college sophomore) put your hands together and move your thumbs to make the Awkward Turtle swim.
Apparently it's, like, awkward that I didn't know about this, because Matt Yglesias blogged about it, citing a 2/2006 article in the Brown student newspaper, and it was in the Washington Post and everywhere. ]
---