« previous post | next post »
Two items in the March 2010 Harper's Index™:
Projected percentage decline in U.S. job listings for tenure-track language and literature professorships this year: 37
Total percentage decline in those disciplines since 2001 this will represent: 51
This is implicitly  contrasted, in Harper's Index style™, with the next two items:
Number of U.S. university presidents who currently earn more than $1 million per year: 24
Number who did in 2002: 0
The job-listing numbers are sourced to the Modern Language Association website, and I believe refer to its Job Information List.  According to the 2009-2008 report, last year's numbers were 897 for tenure-track jobs in English and 669 for jobs in foreign languages, for a total of 1,566, down from 1,244 + 905 = 2,149 in 2007-2008.
A further decline of 37% in 2009-2010 would imply a total of 986, which is 54% down from the 2007-2008 figure. This graph (which shows total job listings, not just tenure-track listings) implies that 2000-2001 (though a local maximum) was not as high as 2007-2008: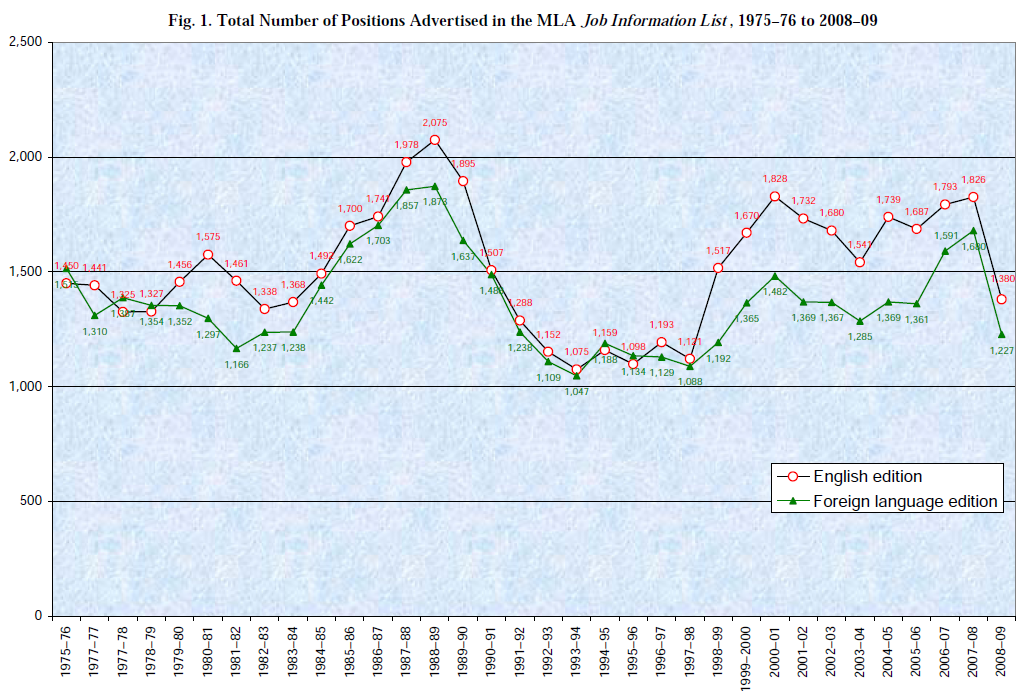 And the projected decline will bring job totals below the level of the trough in the mid-1990s. According to David Laurence's preface to the 2008-2009 report:
The financial crisis of 2008 made its consequences painfully evident in the 2008–09 MLA Job Information List (JIL). After trending upward between 2003–04 and 2007–08, the number of jobs advertised in the JIL in 2008–09 declined since 2007–08 by 446 (24.4%) in English and 453 (27.0%) in foreign languages. In the English edition 1,202 ads announced 1,380 jobs; in the foreign language edition 1,106 ads announced 1,227 jobs (ads that departments later marked "search canceled" have been excluded from these counts). In both numerical and percentage terms, this year's declines mark the largest single-year decreases in the thirty-four-year history of the JIL counts.
If the projection cited in the Harper's Index holds up, the declines for 2009-2010 will set a new record, at least for declines in percentage terms.
It's plausible to see this as nothing but a reflection of the same poor economic conditions that are leading throughout the economy to high unemployment and poor job creation relative to job loss. But one of my colleagues in an English department has been wondering out loud whether this might also be part of a longer-time trend, associated with static or declining overall faculty sizes;  increase in the proportion of adjunct, part-time or other non-tenure-track instructors;  lower retirement rates; and shifts of resources away from (certain areas in) the humanities.
One reason that this matters is that projections of future job numbers (ought to) inform choices about the size of graduate programs.
These specific numbers are only marginally relevant to PhD programs in the field of linguistics, since few of the MLA listings are likely prospects for new linguistics PhDs, and many if not most academic linguistics jobs are advertised elsewhere. Also, a significant fraction of linguistics PhDs take industrial or other non-academic research jobs.
Still, the problem of matching supply and demand exists in one form or another, all across higher education. Most of the time, there are either too many of a given specialization, or not enough; and the feedback loop has a delay of 5-7 years in it (allowing 5 years for graduate school and a couple of years for undergrad preparation).  Economic oscillations with a period of a few years can be managed, somewhat painfully  — students can choose to leave school earlier or later, for example. But large-scale trends are harder to deal with, especially if people don't recognize what's happening.
The worst example that I've ever seen was the boom and bust in the computer-science job market associated with the dot-com bubble, and the associated rise and fall in undergraduate enrollments and graduate-school demand.
As for the rise in the salary of upper-level university administrators, I'm not sure what to make of it. The most obvious thing to say is that it's related to the general rise in upper-management salaries across the economy, and that it's generally smaller than what's happened to CEO salaries in other organizations of similar size. In neither case is it clear to me that society as a whole is better off than if this reallocation hadn't happened, but I don't see any reason to complain about university presidents in particular.
[For some information about the supply side, there are various reports on the web site of the Association of Departments of English, including the Report on the Survey of Earned Doctorates, 2006.]
---