« previous post | next post »
English freely allows past participles to be used as pre-nominal modifiers, and in the natural course of events, such participle+noun combinations often become collocations or fixed expressions: fried chicken, pulled pork, mulled wine, hard-boiled eggs, rolled oats, cracked pepper, combed cotton, wrought iron, dropped ceiling,
English speakers also tend to weaken or omit final coronal consonants, a process that linguists call t/d deletion: thus [lɛf] for left.  Although t/d deletion is stigmatized, in fact all normal English speakers do it some of the time, at least in some contexts.  As a result, fixed expressions that start out as participle+noun are sometimes re-analyzed so as to lose their -ed ending.  This happened long ago to ice(d) cream, skim(med) milk, pop(ped) corn, wax(ed) paper, shave(d) ice, etc. It's happened more recently (I think) to ice(d) tea, cream(ed) corn, and whip(ped) cream.
A few weeks ago, reader JM reported one of these that's new to me: "bake goods" for baked goods, in a flier from his son's school.
This one is definitely out there on the web. Some examples are in a context featuring some other non-standard spellings — thus one page advises us to "keep the kids happy and your time not waisted" by following its instructions on "How to Keep Your Bake Goods Soft"; and another page asks "How often do you make homemade bake goods?", and starts the answer "I use to make several kinds of cookies each week…"
But other examples are otherwise pretty much standard: check out Mutt Face Bake Goods ("Treats for Dogs and their Pets") in Seguin, TX; or the Countryside Bake Shop in Auburn KY ("Along with bake goods we also do vegetable trays, fruit trays, meat & cheese trays, potato salad, chicken fingers, chicken salad, ham salad and the list goes on"), or this 2005 article in the Westchester County Business Journal, "New bake goods store gives all net profits to nonprofits".
I don't know whether this is a new trend, or a sporadic but stable variant that's been around for a long time, regionally or at low frequencies.  I suspect the latter: thus Google Books turns up this, in a 1918 History of Saginaw County, Michigan:
He was a practical baker and made such excellent bread and other bake goods that his modest establishment became the Mecca of tired housewives, who were thus able to eliminate baking from their household duties. So successful was this well conducted bakery that now, after fifty years of continuous operation, the name of WOLFARTH is synonymous of all that is pure, wholesome and appetizing in bread and bake goods.
Or this example from the July 1975 issue of Kiplinger's Personal Finance: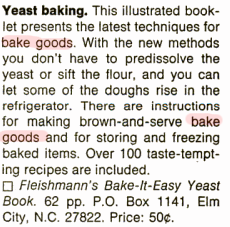 In both of those last examples, the phrase "bake goods" occurs twice in the same paragraph, making it less likely that it's a typographical error.
The April 1916 edition of Baker's Review has five instances of "bake goods", in contexts like "With one of these ovens you can produce the highest quality of bake goods with the lowest possible cost for fuel and repairs". On the other hand, the same issue of the same journal has 21 instances of "baked goods"…
The development of large, well-dated, searchable digital archives will eventually make it possible to study the population memetics of such variants in an empirically grounded way.
[Update — I should add that in some cases, there are alternative plausible derivations besides t/d deletion. In particular, some combinations (like ice tea) are plausible as noun-noun compounds; and other examples (like shave ice) may reflect the influence of language varieties (in that case, Hawaiian Creole) that entirely or variably lack the -ed affix.]
---