« previous post | next post »
A recent xkcd: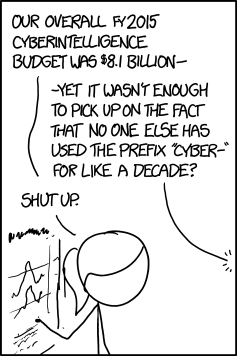 Mouseover title: "We had gathered that raw information, but had yet to put it all together."

Hate to spoil the joke, but Google Scholar finds 452 publications on cyberintelligence since 2014; 8,330 publications on cybersecurity in the same period; and 30,200 publications using the bare lexeme cyber.
Google Books ngrams won't track past 2008, and suggests a leveling off around 2004, but clearly the graph didn't go to 0 in 2005:
And the NYT index gives 1,290 results for the lexeme cyber within the past 12 months — but only 107 hits for the 12 months from 1/1/2000 to 1/1/2001. (Or looking at one of the many prefixed forms, 771 hits in the last 12 months for "cybersecurity", versus 3 hits for the period 1/1/2000 to 1/1/2001…)
So what does Randall Munroe, always extraordinarily well informed, have in mind? I'm not sure — maybe the decline of cyberpunk?
Or maybe the 9/11 cross-reference was just too good to pass up?
Update — on balance, I think this is a version of the (attributed to) Yogi Berra observation, "Nobody goes there anymore, it's too crowded".
Update #2 — a comment from Ben Zimmer:
For more on the persistence of cyber- in the intelligence community, see my June 28, 2013 Wall St. Journal column, "'Cyber' Dons a Uniform," and my Language Log followup. Also of interest, "The Bizarre Evolution of the Word 'Cyber'" (io9, Annalee Newitz, Sept. 16, 2013).
---