« previous post | next post »
From time to time, one encounters Japanese names that evoke bygone days.  In Japan, though, things that are archaic somehow manage to stay alive in the present.  Two realms in which that happens fairly often are place names and surnames.
1.
We are already familiar with some of the oddities of place names from train and metro stations: "Ootori" (8/9/15), "Miswritten character on a Tokyo Metro sign" (7/31/15). Now, from a Chinese point of view, Mengnan Zhang introduces us to another:
It was that time I was in Tokyo, and saw a train passing by with the destination of Wǒsūnzi 我孫子. I was shocked. 孫子 basically means "grandson" in Chinese, and 我孫子 means "my grandson".  However, in northern China, especially Beijing, people use 孫子 to curse others, conveying that there is a seniority difference between the two speakers. 我孫子 is just absurd to people who can recognize these three Chinese characters. On the other hand, the different meaning of same words in Chinese and Japanese perfectly shows that although both Chinese-speaker and Japanese-speaker can recognize the characters, they can not communicate since they would interpret in two different ways.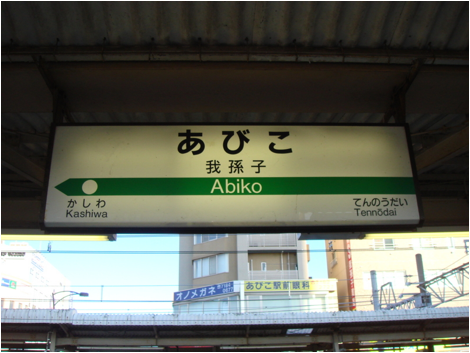 In Japanese, "Abiko" is known only as the name of a town in Chiba Prefecture.  This combination of kanji or the pronunciation "Abiko" is never used as a word meaning "my grandson".  The dictionary says it is a variation or transformation of the sound abiki(網引)but does not explain why.
One theory of the origins of the Abiko as a toponym is that it was the name of a Yamato-period family who lived in that area.
2.
Every year in my "Language, Script, and Society in China" course, I begin by discussing a unique toilet (otearai お手洗[い], var. 御手洗[い]) sign from Hokkaido that was presented to me by Bob Sanders about a quarter of a century ago, so my students and I are very familiar with that Japanese word.
That exercise prompted Mengnan Zhang to send in the following note and accompanying illustration:
I also think this is interesting since it's related to our latest lecture topic. How could people use "restroom" as their last name, I wondered before reading the hiragana. It's very important for Japanese people to have the hiragana of their names on the name card.  Otherwise, it would be so embarrassing if people pronounce 御手洗 as otearai instead of mitarai. But still, as a non-native speaker, I found it's so funny to have 御手洗 as a last name.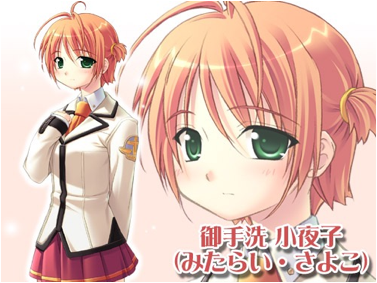 This person's full name is Mitarai Sayoko.
御手洗 did not mean "toilet" originally.  It designates a place for a purification ceremony with water at the entrance to shrines and temples (see here).
Even today at such religious establishments, there is a section with a small water fountain and scoops so that visitors can wash their hands and mouths before worshipping deities enshrined within.  Sometimes streams passing through the area of the shrine or temple serve for this purpose.  From this usage, Mitarai came to serve as a clan name, one that has been in existence for a long time.  As such, it is a distinguished family name. (PDF of a Japanese study on the surname here.) Mitarai is also the surname of the CEO of Canon and head of Keidanren (Japan Business Federation).
The reading mi– is obsolete but not uncommon for 御. It's used mostly with things related to the emperor / imperial family.
Note from Wiktionary:
In some rare cases, it is pronounced み (mi-), primarily for religious words, pertaining to gods or the emperor, as in 御輿 (mikoshi, a type of shrine). However, in this context it is often replaced by 神 ("god", also pronounced mi-), and then a further 御 (pronounced お, o-) may be added, as in 御神輿 (o-mi-koshi). The mi-prefix also became merged into other kanji, as in 宮 (miya, imperial palace).
The following are for specialists in Japanese, though I will note that the first item is none other than the "mikado" of Gilbert and Sullivan operatic fame:
御門、帝(みかど): 天子
御子(みこ): 皇子
姫御子(ひめみこ):皇女
御屋、宮(みや)
御幸、行幸(みゆき):御幸(ごこう)は別語
御言宣、詔(みことのり)
御墓(みはか):陵(みささぎ)に同じ
Source
More extensive listing here.
[Thanks to Nathan Hopson, Miki Morita, and Cecilia Segawa Seigle]
---