« previous post | next post »
So I was reading about the Alien Friends Act, and in James Morton Smith, "The Enforcement of the Alien Friends Act of 1798", The Mississippi Valley Historical Review, 1954, I stumbled on a quotation from "The Political Green-House, for the year 1798", which with a bit of extra context runs like this:
Lo! now too dismal forms* draw nigh,
And cloud the Jacobinic sky,
While awful Justice lours around,
And Law's loud thunders rock the ground.
Each factious alien shrinks with dread,
And hides his hemp-devoted head;
While Slander's foul seditious crew,
With gnashing teeth retire from view.
* The Alien, and Sedition Law.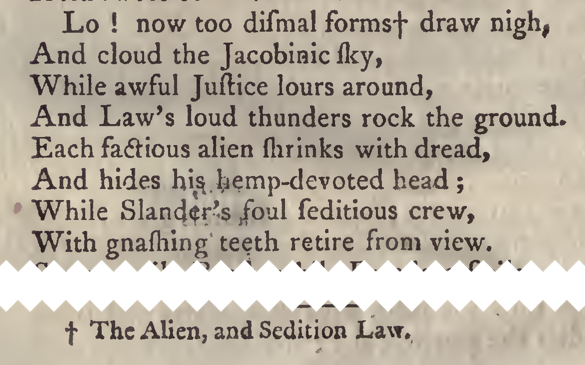 This reminded me again of how much more polarized American politics was during that "reign of witches" — but mostly I wondered whether the Connecticut Courant's Federalist versifier was accusing the United Irishmen and French Jacobins of being potheads.
But after a moment's thought, I realized that the phrase "hemp-devoted head" was a threat of hanging rather than a reference to cannabis consumption.
Confirming this interpretation, a bit later we get
Nat Fellows, and old Thompson, eke,
Cannot redeem thy forfeit neck ;
And then
From these dread scenes of wild affright,
Bache and Tom Greenleaf took their flight,
The Yellow Fever clos'd their date,
And sav'd two halters to the State.
(A reference to the fact that Benjamin Franklin Bache, editor of the Philadelphia Aurora, and Tom Greenleaf, editor of the New York Argus, died of yellow fever while under indictment for violating the Alien and Sedition Act.)
---