« previous post | next post »
The business about musical modality and emotion reminds me of an amazing unpublished experimental result.  At least, it's amazing if it's true; and I think it probably is.

Thirty years ago or so, microcomputers were just being invented, and most of them didn't have audio I/O, and none of them had much in the way of software for creation and manipulation of sounds.  So researchers interested in audio analysis or synthesis wrote their own programs — usually in Fortran or assembly language — on suitably-equipped "minicomputers", which despite the prefix mini- were rather large and expensive devices.  Both the hardware and the programming skills were hard to come by, and so when I was first at Bell Labs, the word got around that I was willing and able to help people make stimuli for acoustic perception experiments.
At one point, a grad student in psychology at Yale got the idea to see whether the phenomenon of "categorical perception" applied to tones in the context of musical chords. His basic idea was to create a continuum of stimuli from (say) a major triad to a minor triad, with the middle note moving in steps of (say) a tenth of a semitone from a minor third to a major third relative to the root, and then to compare discrimination and classification accuracy along this continuum. He asked for help, and so I made him a suitable set of stimuli (using Max Mathews' MUSIC program on Peter Denes's DDP-224), and sent him happily back to New Haven.
But a couple of weeks later, he was back with bad news.  To screen his subjects, he'd run them first in a simple ABX discrimination task on the two end-points of the continuum. These subjects were the usual undergrad psychology students, further selected as having normal hearing and being especially interested in music. However, most of them did surprisingly badly, on a task that should have been trivial, and about a third of them performed at chance levels. So he figured that we must have screwed up the stimuli.
But analysis on the computer showed that the chords had the pitches that they were supposed to have.  So we figured maybe it was some problem with the digital instrument I used — not enough higher harmonics, chords too long or too short, excessively regular phase relationships, something. We tried lots of alternatives, including chords played on a regular acoustic piano. Unfortunately, the result didn't change. It seems that this is a surprisingly hard task, at least for some people.
Just to clarify what's going on here, in the simplest case you're asked to tell whether two triads in root position — two major, two minor, or one of each in either order — are the same or different.  You don't need to know the terminology, you don't need to identify which chords belong to which categories, you just need to tell whether two short, adjacent sounds are the same or different. In a simple same-different presentation, we're talking about things like this:
| | |
| --- | --- |
| Audio clip: Adobe Flash Player (version 9 or above) is required to play this audio clip. Download the latest version here. You also need to have JavaScript enabled in your browser. | |
versus this:
| | |
| --- | --- |
| Audio clip: Adobe Flash Player (version 9 or above) is required to play this audio clip. Download the latest version here. You also need to have JavaScript enabled in your browser. | |
I was frankly incredulous.
How could someone who enjoys listening to music not be able to hear that? It's a sort of masking effect, apparently, because the same subjects performed perfectly if the middle tones were presented independent of the other two notes in the triad:
| | |
| --- | --- |
| Audio clip: Adobe Flash Player (version 9 or above) is required to play this audio clip. Download the latest version here. You also need to have JavaScript enabled in your browser. | Audio clip: Adobe Flash Player (version 9 or above) is required to play this audio clip. Download the latest version here. You also need to have JavaScript enabled in your browser. |
A post-doc then in residence at Bell Labs was equally incredulous when I told her about this result. But when she listened to the stimuli, she turned out to be one of those who couldn't reliably hear the difference. She insisted that the stimuli must be faulty, despite all the checks and re-checks.
So we found a piano in a decent state of tune, and ran a quick test using pairs of chords played live. Same result — it was trivial for her to discriminate two piano notes in isolation a semi-tone apart, but when the same notes were played as the middle note of a triad in root position, her discrimination performance was at or near chance.
She was embarrassed and annoyed, and we agreed that this was all bizarre and weird.  She had taken piano lessons as a child, she could sing well, she had a subscription to the symphony, she enjoyed listening to recorded music… And never mind all the happy-sad stuff, the different chords in question often play completely different roles in the syntax of tonal harmony.  Was it really true that she couldn't perceive the tonal structures of the music that she loved to listen to? Was it all just percussion to her?
Neither of us could believe that, and so I tried something else. I embedded the same (major or minor) triads in a stereotypical I-IV-V-I cadential sequence, where the (flatted or unflatted) third is the leading tone of the V chord:

Audio clip: Adobe Flash Player (version 9 or above) is required to play this audio clip. Download the latest version here. You also need to have JavaScript enabled in your browser.
Suddenly, the difference was crystal clear to her.  Never mind discrimination, she could unerringly identify the valid cadences. This is a classic example of "release from masking" — the difference between the two notes is trivially perceived in isolation; then the difference is masked when the same two notes are embedded in a chord; and then the difference is trivially perceived again when three additional chords are added in sequence.
I made up some new stimuli and showed them to the Yale grad student. He was interested, but (as I recall) his advisor thought this was a distraction — at best an echo of gestalt principles that were rather out of fashion in those days — and so I don't think any of this stuff was ever published.
But one of the things that I learned by checking the references in the Bowling et al. paper is that a similar result had been published decades before I was born, in Christian Paul Heinlein, "The affective characteristics of the major and minor modes in music", Comparative Psychology 8(2):101-142, 1928. Heinlein performed
… a group of preliminary tests designed for the purpose of ascertaining degree of difficulty in discrimination between major and minor chords when presented in (a) the tonic open position with the root repeated in the soprano, and (6) in the tonic open position with root doubled in the bass and the fundamental triad Third introduced in the soprano. […]
In each of these forms, two pair-types are included. The first type represents a pair in which the chords are identical in their tonal structure: the second type represents a pair in which the chords differ from each other through the alteration of the triad Third by a semi-tone ascent or descent. Such alteration transforms a major chord into a minor chord, or a minor chord into a major chord, either chord being founded upon the same fundamental as root.
Note that these both of these chord-structures ought to be perceptually easier than the triads that we used, because in the first type, the third is further in pitch from the other notes in the chords,

and in the second type, the third also appears as the highest note ("soprano") in the chord:

Still, according to Heinlein,
The results, although evidencing marked individual differences in response, emphasize one fact; namely, that both trained and untrained subjects find it easier to discriminate between two chords in the inverted position [with the third as the highest note] than in the tonic position [where the third is an inner voice].
And the overall level of performance in "major-minor modal discrimination" was consistent with the results from the Yale undergrads. Here's the relevant table of results from Heinlein's paper, with the percentage scores for "major-minor modal discrimination" in column (D):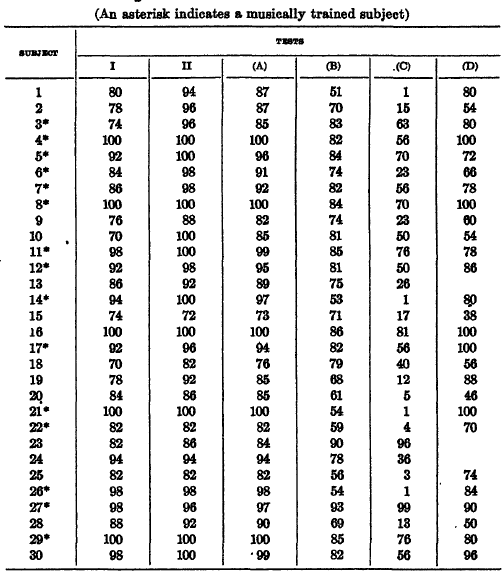 Note that 7 out of his 30 subjects performed at or below 60% on this task, and that several of the musically-trained subjects performed in the 60-80% range.
---