« previous post | next post »
From reader JHG:
Is it just my perception, or is the phrase "on-point" in the midst of a meteoric rise in usage and a de facto expansion in meaning?  I have heard it used repeatedly as a general term of approval or commendation rather than to mean only "germane." We may not have the next "cool" on our hands, but I think there's a trend here. Any way to validate one listener's perceptions with some research?
This is not something that I've noticed, but JHG might be right, and we can test the "meteoric rise in usage" hypothesis with simple text searches.  This is a crude measure, since it doesn't distinguish among the many uses of the word string "on point" — but there's no reason to expect "meteoric" changes in the frequency of the ballet sense "on the tips of the toes", or the military sense "posted at the head of an advancing column", or the more complex derivations of the string, like "… SLR lenses are usually superior to those found on point-and-shoot and hybrid models…".
Let's start with the five-year periods available by searching the COCA corpus: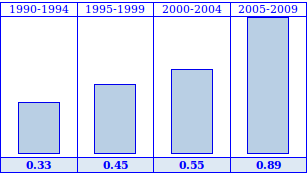 This does suggest a recent increase in frequency — but not exactly a "meteoric" one, since 0.89 uses per million words is still not all that common.  A decade-wise check of the Time Magazine corpus shows a much less coherent picture:

It's true that the 2000s are up over the 1990s, but the 1970s, 1950s and 1920s showed higher rates as well, and none of the rates are very high in absolute terms.
Frequency counts in the Google News archive — which (I believe) conflates usage frequency with time-variation in archive size — confusingly show a peak in 2004:

And a year-by-year comparison of counts in three specific newspaper archives (New York TImes, Guardian, Los Angeles Times) over the past decade looks pretty random, or at least pretty hard to square with an overall "meteoric rise" in the frequency of one of the senses of this phrase:
| | | | |
| --- | --- | --- | --- |
| | NYT | Guardian | LAT |
| 2009 | 62 | 9 | 50 |
| 2008 | 66 | 20 | 58 |
| 2007 | 46 | 11 | 49 |
| 2006 | 44 | 16 | 68 |
| 2005 | 36 | 9 | 42 |
| 2004 | 29 | 9 | 73 |
| 2003 | 28 | 15 | 46 |
| 2002 | 36 | 5 | 58 |
| 2001 | 38 | 9 | 96 |
| 2000 | 41 | 6 | 97 |
| 1999 | 40 | 6 | 80 |
Finallly, a Blogpulse search over the past six months (the longest period available) shows an apparent decline in the percentage of blog posts using this phrase: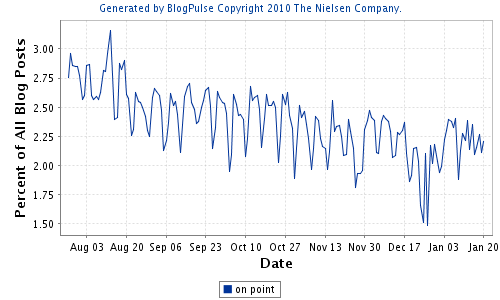 All of this tends to invalidate JHG's perception of a trend, at least one that would increase the overall frequency of the phrase "on point".
But there is one thing that may lead to an explanation of such an intuition.  I was surprised to find that the OED's relevant entry for on point (glossed "relevant, apposite, accurate; 'spot on'; (also) direct, focused") has citations only back to 1993:
1993 National (Ottawa, Ont.) Nov.-Dec. 23/1 They should be on the lookout for seminars and publications on point, and make as many contacts in the industry as they can. 1994Vibe Nov. 26/2 Much props to Kenji Jasper for knowing what real hip hop is all about. His review of the Boogiemonsters album..was right on point.
I'm sure that the usage is older than that — and a few minutes search in the NYT archive uncovered (for example) David Margolick, "Patient's Lawsuit Says Saving Life Ruined It", 3/18/1990:
"There is no case directly on point, but the case law suggests that if you save someone's life you cannot be held liable," said Deborah R. Lydon of Dinsmore & Shohl of Cincinnati, which represents the hospital.
But still, it seems quite possible that this usage was rare outside of legal contexts until the mid-1990s or so, and has recently increased in relative frequency.  Thus in 1990, this was one of eleven uses of "on point" in the NYT archive (9%). In 2009, 17 out of 61 instances involved this sense (28%).  And if you don't read the dance reviews, you'd see a 17-fold increase.
The absolute frequency is still pretty low, but this is enough of a change to trigger the version of the frequency illusion where we perceive a major effect — something that happens "all the time", in general or in the usage of a particular group — even when the actual frequencies involved are small, here less than one per million words.
As for semantic bleaching to a "general term of approval or commendation", I didn't see any clear examples of this. But without mind-reading, it's hard to be sure what someone meant in any individual case. Even if someone said or wrote something like "That carrot cake was really on point" (not that I saw anything like that), they might just mean that it "really hit the spot", or was "really what was called for in that context", and used on point as a quirky way to express the idea.
[Update — OK, I reckoned that if anyone would push a metaphorical extension of rhetorical relevance, it would be fashion writers — and a quick NYT archive search combining "on point" with various fashion-related words turned up Cathy Horyn, "A Daring Stand at Rochas, Rare as a Paris Snowfall", NYT, 3/3/2005:
Against a digitalized backboard, and with digital logo belts, Karl Lagerfeld sent out a collection that was briskly on point. The key message was the coat, in wool, shearling and broadtail, with a high funnel collar and ties that wound twice at the waist and gave a different perspective to volume, and a certain toughness.
As usual in fashion writing, the semantics are confusing.]
[Note that given a copy of the New York Times Annotated Corpus, or some other large corpus with time stamps on documents spanning the past few decades, you could use automated sense disambiguation — or just plain old scholarly scrutiny — to track usage and meaning shifts of this general kind. There are many examples where we know roughly what happened when, but it would be nice to have some cases with a much finer-grained analysis.]
---