« previous post | next post »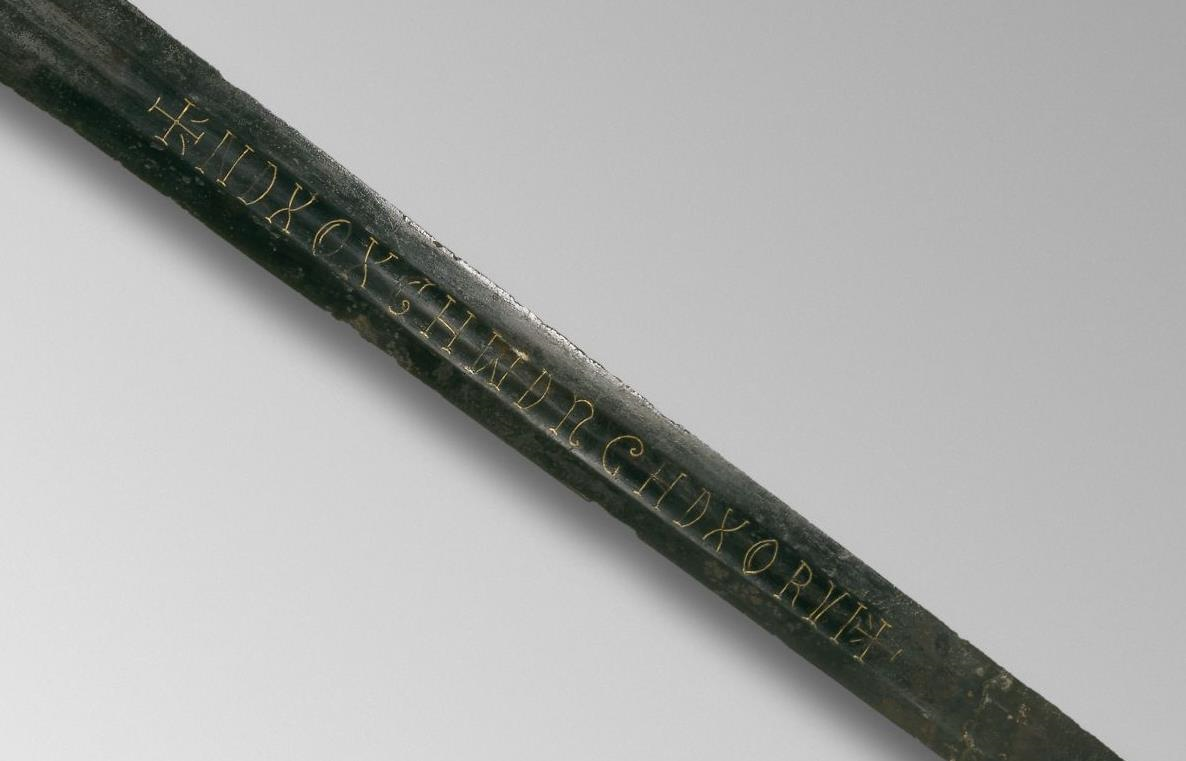 Julian Harrison, "Help Us Decipher This Inscription", British Library Medieval Manuscripts Blog, 8/3/2015:
Visitors to Magna Carta: Law, Liberty, Legacy may have noticed that we have one or two objects on display, in addition to the many manuscripts and documents telling Magna Carta's 800-year-old story. One of those objects is a double-edged sword, found in the first section of the exhibition, on loan to the British Library from our friends at the British Museum. The item in question was found in the River Witham, Lincolnshire, in July 1825, and was presented to the Royal Archaeological Institute by the registrar to the Bishop of Lincoln. […]
An intriguing feature of this sword is an as yet indecipherable inscription, found along one of its edges and inlaid in gold wire. It has been speculated that this is a religious invocation, since the language is unknown. Can you have a go at trying to decipher it for us? Here's what the inscription seems to read:
+NDXOXCHWDRGHDXORVI+
A note added 7/7-10 by Marc van Hasselt (Utrecht University, Hastatus Heritage Consultancy):
Inscribed swords were all the rage in Europe around the year 1200. Dozens of them have been found, from England to Poland, from Sweden to France. While researching a specific sword-blade found in Alphen aan den Rijn, the Netherlands, I found around a dozen other swords which had striking similarities. One of those swords was the River Witham sword, making it part of a large international family. Using the excellent research by Thomas Wagner and John Worley, an image of a hugely successful medieval workshop was created, making 'magical' swords for the elite. The swords themselves are of a high quality, but what most catches the eye are the inscriptions. Both their mysterious contents and the similarities in the lettering are striking. A sword from Sweden might use the same slightly curved X as the River Witham sword. A sword currently in Berlin has an I-S contraction also used on a sword found in the Netherlands. These similarities go so far as to suggest the same hand in making the inscriptions. However, their contents are still a mystery, regardless of their origins.
There is some debate on the language used in the inscriptions. But looking at the other European finds, it seems most likely that this language is Latin. This makes sense in the context of 13th-century Europe, as Latin was the international language of choice (like English is today). To elaborate, let's compare the River Witham sword to the sword from Alphen: both start with some sort of invocation. On the River Witham sword, it is NDXOX, possibly standing for Nostrum Dominus (our Lord) or Nomine Domini (name of the Lord) followed by XOX. On the sword from Alphen, the starting letters read BENEDOXO. Quite likely, this reads as Benedicat (A blessing), followed by OXO. Perhaps these letter combinations – XOX and OXO – refer to the Holy Trinity. On the sword from Alphen, one letter combination is then repeated three times: MTINIUSCS, which I interpret as Martinius Sanctus – Saint Martin. Perhaps a saint is being invoked on the River Witham sword as well?
Additional reading:
Thomas Wagner, John Worley, Anna Holst Blennow, & Gunilla Beckholmen, "Medieval Christian invocation inscriptions on sword blades",  Waffen- und Kostümkunde, 2009:
There are no satisfying explanations as to why most blade inscriptions are incomprehensible. Of course, it is likely that the sword smiths who did the metal work for the inscriptions were illiterate; however, the craftsmen could not have failed so regularly and ruined so many valuable blades with illegible inscriptions. Most epigraphic scholars suggest an initial-based abbreviation system; however, this thesis is only to be proved, if the inscrutable alignments of letters could be assigned to a common prayer, psalm or bible quote. This was hitherto only possible, if the inscriptions consisted of (at least some) full Latin words and not only initial sequences . Wegeli himself and Erben tried to relate the suspected initials with a prayer or a sentence spoken in conjunction with the sword presentation ceremony or in German "Schwertleite" . This was a ritual, probably of Germanic origin, in which the father handed down the sword to his grown-up son as a sign that he can defend himself and the tribe. During the Middle Ages the "sword presentation ceremony", performed by the liege lord or a cleric, put the warrior into service of the former, as a vassal in the first case or as a "miles Christi ad servitium Iesu Christi" ("soldier of Christ in service of Christ") in the second . Unfortunately, as yet it has not been possible to identify such a traditional type of ceremonial dicta latina that was carved on a sword blade. Moreover, this theory presupposes that the inscriptions were generalized. However, quite conversely, the inscriptions (even though sometimes showing a constancy of letters) are extremely variable and appear to be very personal. One might say the individual secret of every sword bearer. It must have been a special dictum so obvious and so self-evident to him that it was not necessary to spell out its significant meaning.
John Worley & Thomas Wagner, "How to make swords talk: an interdisciplinary approach to understanding medieval swords and their inscriptions", Waffen- und Kostümkunde, 2013:
It is our premise that if one is to understand the meaning of a historical or archaeological artifact it is important to understand its context as well. That is to say, we try to understand the object, the time period from which it came and how the whole picture fits together. In accordance with the theoretical framework of Lorraine Daston, our medieval swords can be considered "talking things" . Their "loquaciousness" derives from their mythical and material properties as well as from the cultural purpose for which they were produced. Interpreting historical items in this manner is a task not without its fair share of complexity. We would suggest that the most fruitful way to approach such a spider web of interdependency is by way of an interdisciplinary study. A study that utilizes a hermeneutic methodology and checks the feasibility of the proposed hypotheses by way of a dialectic relationship with the objects of study. Given the importance of clearly defining such complex terms, we shall explain exactly what we mean.
---