« previous post | next post »
"Important – Please contact us to provide more information."
That's what the letter from Independence Blue Cross said. Dated 7/28/2015, it arrived 8/4/2015, and informed me that I need to "call or respond online within seven business days to ensure that your future claims and those of your family members can be processed in a timely manner." So today is the deadline.
What do I need to contact them about? "We are required to determine if you or your family members have other health insurance coverage to process your claims."
OK, fair enough. And they inform me that "You can choose the most convenient way to provide this information to us". The first option is to "Simply dial 1-866-507-6575 and follow the prompts on our easy-use interactive voice response system"; the second option is "to visit our member website at www.ibxpress.com".
But it turns out that there are a couple of problems. The first problem is that both methods fail at the first step. And the second problem is that there's apparently no other way to contact them to "provide more information … to ensure that your future claims and those of your family members can be processed in a timely manner".
I started with the member website. I'm already registered, so I figured it would be easy. But when I try to sign in, I get this: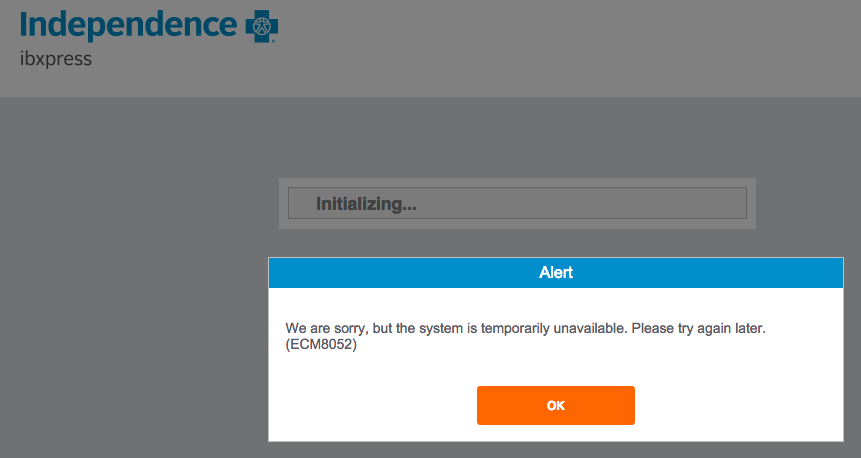 That was the response Tuesday evening when I first saw the letter, and that's still the response now, 60 hours later.
So I tried the "easy-to-use interactive voice response system". It starts out this way:
What appears on the front of my Independence Blue Cross identification card is a sequence of three letters and 12 digits. So apparently it's the digits they want, right?
But when I enter the 12 digits, the "easy-to-use interactive voice response system" confirms only the first six digits of my choice, and asks me to press 1 if this is right, or 2 if it's not. I tried pressing 1, but was told in response that what I had entered was not a valid number.
So to make a long story short, I tried all seven six-digit substrings of the 12-digit number on my ID card. Each of these six-digit strings was rejected in turn.
So what to do? The help button at ibxpress.com leads to an email form for contacting them with an "Inquiry or Comment":
https://ecom.ibx.com/ibx/htdocs/email_forms/contact_us/ibxpress_tech.html
So Tuesday evening I sent an email explaining the situation briefly and asking what to do. Yesterday evening I sent another one. No response so far.
I've experienced a lot of bad user interfaces, and written about some of them — see e.g. "When bad interaction happens to good people", 8/15/2007 (and the associated User Guide,  "The Legend of Facility Focus"), or "Annals of human-computer interface improvement", 2/1/2010. But for sheer power of fast and efficient easy-to-use frustration, you can't beat the automated customer interaction systems deployed by Independence Blue Cross.
This would be funny, except that it's part of why insurance-company administration consumes about a third of U.S. health-care costs — and this doesn't count the customer time and energy spent dealing with such things. Also, on a personal level, I have a family member dependent on this insurance policy for treatment of a chronic illness.
Update 8/8/2015 — Giving up on the number and internet address given in the letter, I called the company's main help number, which is an IVR (interactive voice reponse) system rather than one the relies only on touch-tone responses. That system accepted my SSN, which it understood correctly, and then asked me which of a half-dozen irrelevant issues I wanted to address. The response to "none of those" was to patiently ask me again about the same irrelevant list, four or five times, but eventually it conceded defeat and connected me to a human operator, who was able to update the relevant information in my file with  no problem.
---