« previous post | next post »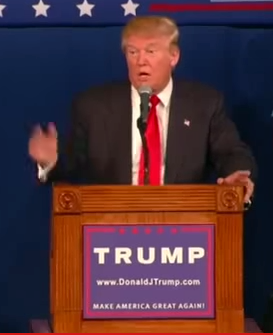 Geoff Pullum uses terms like "aphasia", and phrases like "I don't think there's any structure in there", in describing a quoted passage from Donald Trump's 7/21/2015 speech in Sun City SC. But in my opinion, he's been misled by a notorious problem: the apparent incoherence of much transcribed extemporized speech, even when the same material is completely comprehensible and even eloquent in audio or audio-visual form.
This apparent incoherence has two main causes: false starts and parentheticals. Both are effectively signaled in speaking — by prosody along with gesture, posture, and gaze — and therefore largely factored out by listeners. But in textual form, the cues are gone, and we lose the thread.
There's another issue in this case as well. The segment in question takes place about 35 minutes into Trump's speech, and the earlier parts of the speech have featured repeated assertions and implications that recent American leaders are bad negotiators, and have therefore made bad deals with other countries, including Mexico, China, and Saudi Arabia. This is relevant to his candidacy because "The Art of the Deal" is part of his persona — and it's relevant to the the quoted segment, which is discussing another example, the nuclear deal with Iran. Because of this background, he can afford to criticize the nuclear deal in an allusive way without confusing his audience.
A youtube video of the whole 7/21/2015 speech is here, set to start at the place where the allegedly aphasic transcript begins. Watch and listen — or just listen to the audio clip below — and I think you'll see what I mean:
His parenthetical asides in this segment feature another of his frequent themes, namely the allegedly liberal media's lack of respect for his intellectual credentials.
I don't have time this morning to label this passage's false starts and parentheticals according to (for example) the SimpleMDE guidelines, but this would be a straightforward exercise. Overall, I think the passage is entirely comprehensible, and in the context of the speech as a whole, even eloquent. The false starts and parentheticals may actually make the speech better, at least for people who are open to liking Trump and endorsing his ideas, by giving an impression of enthusiasm and genuineness.
It would be a mistake to underestimate his considerable effectiveness as a public speaker, even if he doesn't speak in conventionally coherent textual paragraphs.
Update — For those who may not be familiar with Donald Trump's general speaking style, here's a 10-hour sampler:
---