« previous post | next post »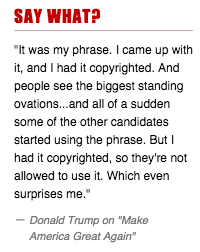 Doonesbury, "Say What?" 8/1/2015:
"It was my phrase. I came up with it, and I had it copyrighted. And people see the biggest standing ovations…and all of a sudden some of the other candidates started using the phrase. But I had it copyrighted, so they're not allowed to use it. Which even surprises me."
— Donald Trump on "Make America Great Again".
Although that quotation certainly sounds authentic, there's no citation or link, and I haven't been able to find the quote referenced anywhere else. Did Trudeau just make it up?
If so, why? Donald Trump has been quoted saying similar things. Back in March, e.g. Ben Kamisar, "Trump brings birther charge against Cruz", The Hill 3/23/2015:
Trump claimed he had come up with Cruz's line about making America great again and questioned whether he should have secured the rights to it ahead of the 2016 campaign.  "The line of 'Make America great again,' the phrase, that was mine, I came up with it about a year ago, and I kept using it, and everybody's now using it, they are all loving it," Trump said.
"I don't know I guess I should copyright it, maybe I have copyrighted it."
Kamisar got this from a 3/23/2015 telephone interview on myfoxny.com:
[Creakologists take note, e.g.
To paraphrase Naomi Wolf: "Donald, give up the vocal fry and reclaim your strong masculine voice!"]
Kamisar's version of the copyright quote was picked up by others — Matt Taibbi, "Donald Trump Claims Authorship of Legendary Reagan Slogan; Has Never Heard of Google", Rolling Stone 3/25/2015; Kaili Joy Gray, "Donald Trump: I Invented The Word 'America.' YOU'RE WELCOME!", Wonkette 3/25/2015.
In May, it was reported that Trump had trademarked the phrase a couple of years ago — Colin Campbell, "Donald Trump trademarked a Ronald Reagan slogan and would like to stop other Republicans from using it", Business Insider 5/12/2015:
Businessman Donald Trump moved to trademark his potential 2016 presidential campaign's catchphrase more than two years ago.
And — according to a Daily Mail story published Tuesday — the real estate mogul and television personality would really like his potential GOP rivals to stop using it.
"I've actually trademarked it," Trump was quoted saying last weekend. "I mean, I get tremendous raves for that line. … I could come up with different lines. You would think they would come up with their own. That is my whole theme."
And it's true, a USPTO TESS search shows that his lawyers did actually register "Make America Great Again" as a service mark, filed 11/19/2012 and registered as of 7/14/2015.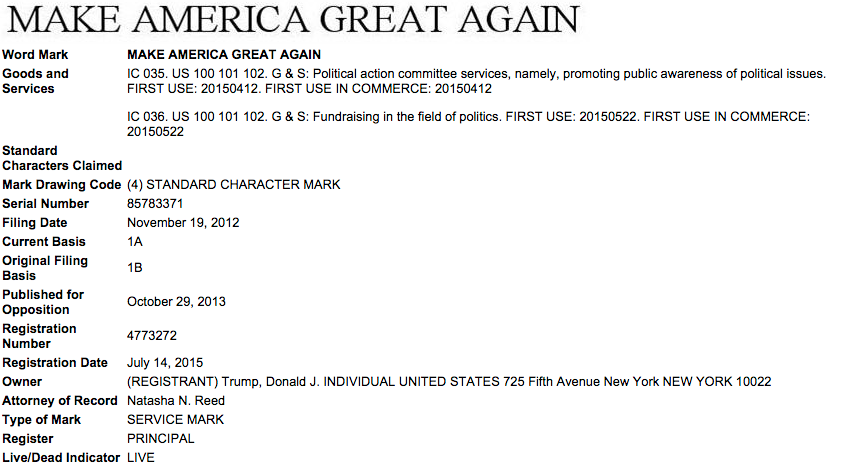 This is not a "copyright". You can't copyright a short phrase like that, even if it hadn't been used many times in the past. So the quotation from Trump's My Fox NY interview ("I guess I should copyright it, maybe I have copyrighted it") is odd in two ways: Trump confuses copyright with trademark registration, and seems to forget that he actually did register the phrase as a service mark.
But the trouble with Trudeau's Say What quotation is that it seems to be an invention — anyhow no source is cited, and internet search doesn't turn up any source other than the Doonesbury site. Even cartoonists should have higher journalistic standards than that.
---