« previous post | next post »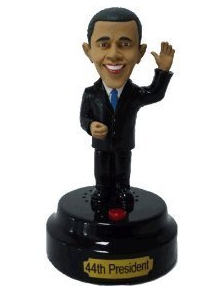 One of the things that I acquired over the holiday was a Talking Obama Figure ("Hear His Historic and Inspirational Words") from Gemmy Industries Corp. of Coppell, TX, "the worlds largest provider of all your favorite seasonal decor, animation entertainment and lighting products". This is one of a large number of other Gemmy talking toys, from the "Animated Talking Head Skeleton" and the "Gemmy Talking Dancing Hamster 97 Kurt Busch", to the "Dora the Explorer Talking Christmas Doll in Santa Outfit" and the "Animated Talking Bouncing Van of Love", and  Gemmy's monster hit from 2000-2001, "Big Mouth Billy Bass".
As you press of the red button on its pedestal, the Talking Obama Figure cycles through nine passages from president Obama's speeches. What struck me first about this collection of inspirational oratory was that it's performed by somebody else.

I noticed this because the performer, though he imitates the president's characteristic prosody, has a distinct South Midland accent. Thus the first passage is from the 11/4/2008 Grant Park victory speech:
The road ahead will be long. Our climb will be steep. We may not get there in one year or even one term, but America – I have never been more hopeful than I am tonight that we will get there. I promise you – we as a people will get there.
Listen to the Gemmy figure's pronounciation of get and I in this excerpt:
Audio clip: Adobe Flash Player (version 9 or above) is required to play this audio clip. Download the latest version here. You also need to have JavaScript enabled in your browser.
And compare Obama's performance of the same words:
Audio clip: Adobe Flash Player (version 9 or above) is required to play this audio clip. Download the latest version here. You also need to have JavaScript enabled in your browser.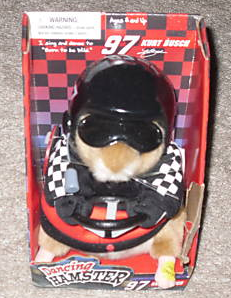 This left me with several questions. Why did they use someone else's voice? Was it for obscure technical reasons, or because of IPR issues with voice that are somehow different from text, or what? And once they decided to use another speaker, why did they have him imitate the president's prosody but not his vowels? Was it because they can't hear the difference, or because they thought their customers would prefer a somewhat Texan version of Obama?
And most important of all, what is the connection between NASCAR driver Kurt Busch and a dancing hamster? This seems like a random selection from the cross-product of American memes, a process that might produce future products like the Talking Tiger Woods Lolcat or the Alvin and the Chipmunks Talking Dancing Mitt Romney.
---