« previous post | next post »
Yesterday ("Pinker peace creak") I followed up on Breffni's reference to vocal fry/creak  in the speech of the young woman who introduces Steven Pinker's talk at the 2015 Nobel Peace Prize Forum. And indeed, in her first 40 words (16 seconds of audio, 8.3 seconds of voiced speech, 1,653 f0 estimate) I found three clear examples of phrase-final period-doubling.
But then, for a bit of balance, I took a look at the start of Pinker's talk — and found three clear examples of phrase-final period doubling in his first 21 words (12 seconds of audio, 5.2 seconds of voiced speech, 1048 f0 estimates).
Since the introducer does seem to exhibit the period-doubling phenomenon in a more striking way, I ended by wondering what the source of this perceptual difference is. But instead, I should have looked at a little more data, which would have clarified the situation, and suggested a way forward.
So for this morning's Breakfast Experiment™, I analyzed the whole introduction (110.3 seconds of audio, 69 seconds of voiced speech, 13485 f0 estimates) and the few minutes of Pinker's speech (221.3 seconds of audio, 147 seconds of voiced speech, 29399 f0 estimates).
And now if we compare the quantiles of estimated f0, we see a clear indication of the introducer's bimodal distribution, caused by a large number of regions where period-doubling sets the pitch an octave (or even two octaves) below her modal range: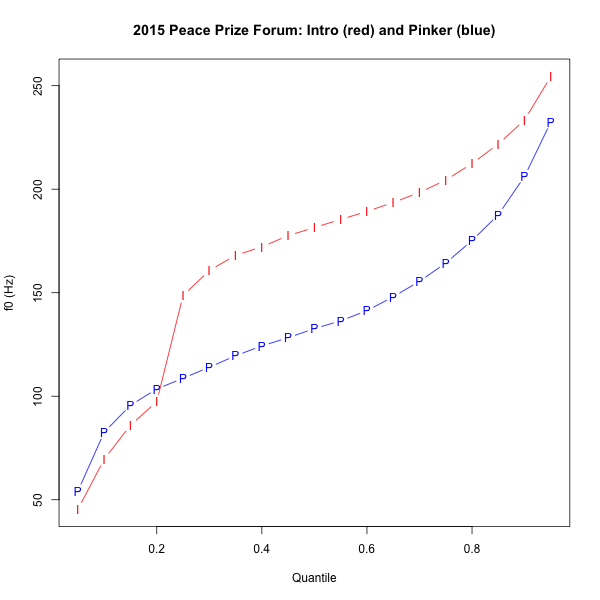 A few months ago, ("Sarah Koenig", 2/5/2015), I suggested using the extent of such bimodality as a way of quantifying the amount of period-doubling. We can see how this would work by looking at the empirical distribution of f0 estimates in the whole Nobel Forum introduction: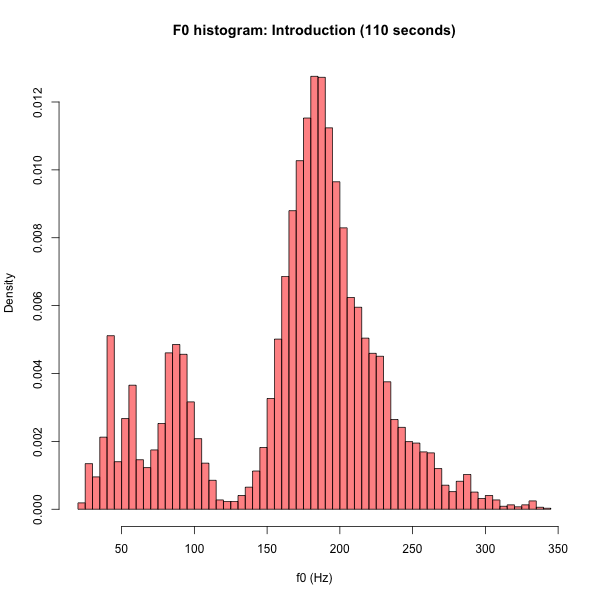 Or on a semitone scale (relative to A 27.5):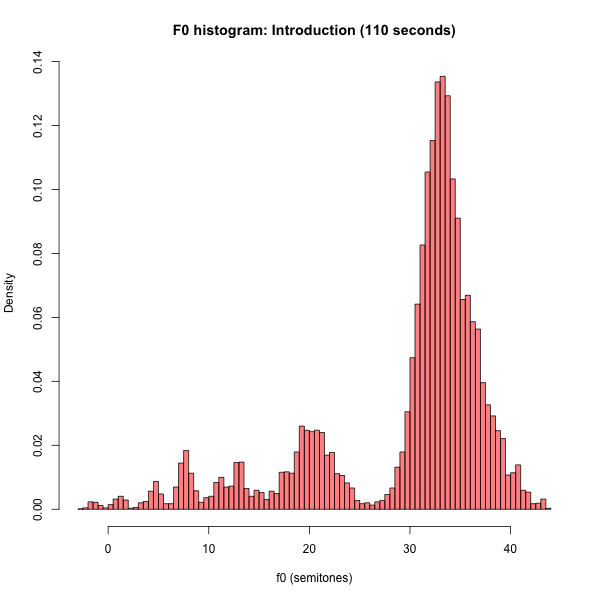 To turn this picture into a single number, we could estimate how much of the distribution is found in the modal part (roughly above 27 in the semitone plot) versus the lower-pitched regions. In this case, about 23.4% of the total is in the lower region of the distribution.
[Wonkish aside — There's a serious potential problem due to variation in the tolerance of pitch trackers for octave jumps — we'd want to be careful about the source of period estimates, and check the results using other methods; or maybe use a softer correlogram output rather than a hard period estimate…]
Here's the same plot for Pinker: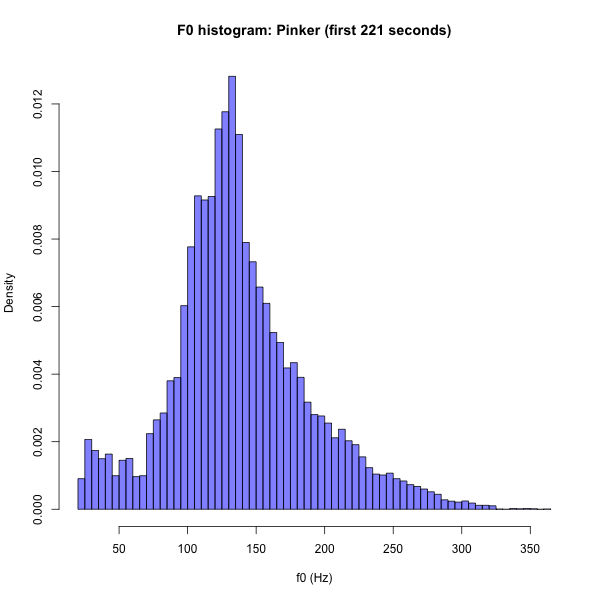 And his semitone version: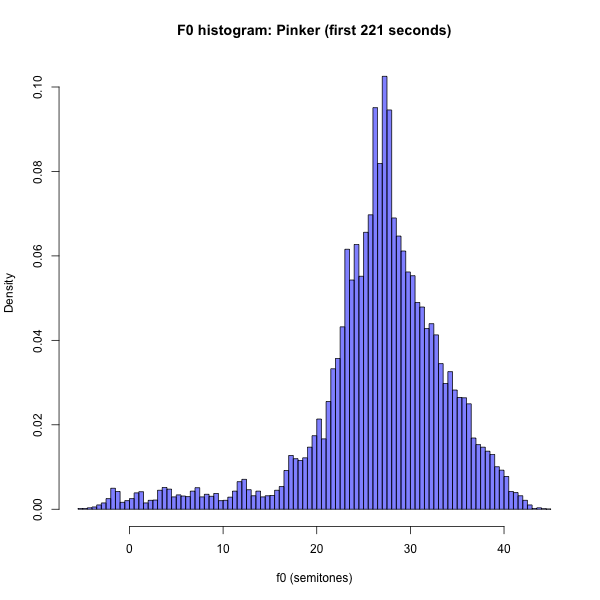 It's easy to see that he has plenty of lower-pitched regions, with a hint of modes corresponding to one- and two-octave shifts — but the overall proportion of f0 estimates from those lower-pitched regions is much less than we saw in the case of the introduction. If we take the boundary to be about 15 on the semitone plot, then about 6.6% of Pinker's f0 estimates are in the lower region, compare to 23.4% for the introduction.
Here are the histograms superimposed:
Given an objective and reliable way to quantify the proportion of non-modal f0 estimates in a sample of speech, applied to appropriate published speech datasets that vary over space and time and culture, we could finally bring a significant amount of non-anecdotal evidence to bear on the issue.
Of course, it's fair to ask why and whether we should bother. Who cares, or should care, in the end? In my opinion, the main motivation comes from the intensity of media attention — apparently millions of people care about this issue, whether they should or not, and it's a bad idea to leave the field entirely to stereotype and anecdote in cases like this. And who knows, we might even learn something interesting…
[For those who want to check what I did in this post, or redo it in another way, here are links to the audio samples I used and to the pitch-tracker outputs: Introduction audio, f0; Pinker audio, f0. I got f0 estimates from a version of esps get_f0, with minimum f0 of 20 and maximum of 400, and frame advance of 0.005.]
[As an illustration of the concern about pitch tracker effects expressed earlier, if I run exactly the same scripts with the same parameters using REAPER as the source of f0 estimates, I get 21.2% for the introduction and 14.4% for the Pinker sample — compared to 23.4% and 6.6% using get_f0. So we need some more work to get stable estimates.]
---