« previous post | next post »
As Breffni noted yesterday in a comment on "Male vocal fry", the young woman introducing Steven Pinker's speech at the 2015 Nobel Peace Prize Forum frequently exhibits lots of period-doubling — what the popular press generally calls "vocal fry", though "creaky voice due to period-doubling" would be a more correct description.
Here's the start of the introduction, with red boldface used to mark the syllables that show period doubling:
The Nobel Peace Prize Forum is thrilled to have with us today doctor Steven Pinker, a Canadian-born U.S. experimental psychologist, cognitive scientist, linguist, and popular science author.
Doctor Pinker is a professor at Harvard, in the department of psychology, …
3 out of her first 40 words — and essentially all of her phrase-final falls — are thus marked.



Breffni puts this video in evidence for the  "the existence of a characteristic creaky-voice pattern (not just overall prevalence) among some groups of young (mainly American?) women". So score one for Breffni's powers of observation.
But wait. If we look for similar phenomena once Steven Pinker starts talking, we only need to look at 21 words to find three instances of period-doubling:
Thank you very much.
Believe it or not — and I know most people do not — violence has been in decline for long stretches of time, …



And if Pinker's period-doubling is somehow qualitatively different from the introducer's period-doubling, it's not obvious from the waveforms and spectrograms what the different is.
I agree that the phenomenon seems more noticeable in the speech of the woman doing the introduction. (By the way, does anyone know who she is? The YouTube site doesn't seem to tell us.)
But the fact that we notice her period-doubling more than his period-doubling might be a fact about our perceptions rather than a fact about their productions.
What kind of perceptual fact could it be? I'm not sure. The most obvious hypothesis is that an octave-lowering pitch jump in a phrase-final fall in a female pitch range is more striking than the same sort of jump in a male pitch range. But that idea is not wonderfully persuasive in this case, because the introducer's f0 quantiles in the relevant range (say, the 20th to 40th percentiles) are only about 30% higher than Pinker's: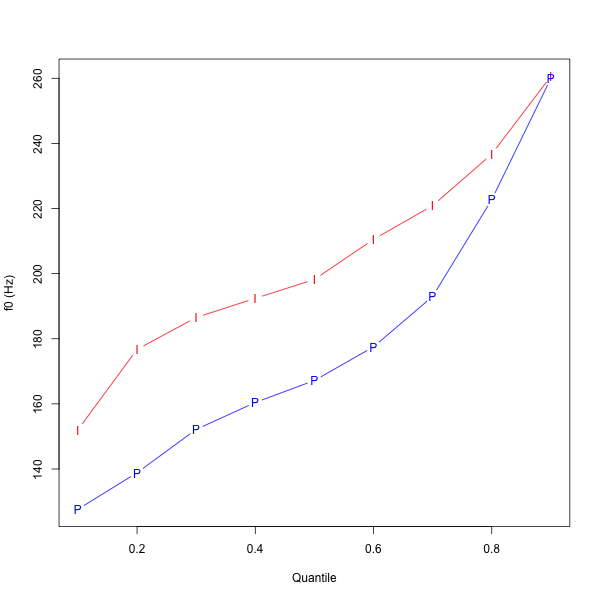 So maybe Breffni is right that there's a "characteristic creaky-voice pattern (not just overall prevalence) among some groups of young (mainly American?) women". But if so, we need to figure out what that "characteristic creaky voice pattern" is.
---