« previous post | next post »
"Can you spot wealthy New Yorkers by their 'R" sounds?", Improbable Blog 6/19/2015:
Is it possible to gauge how wealthy a New Yorker might be just by the way they pronounce their /r/ s? A new paper in the Journal of English Linguistics investigates whether variations of rhoticity [viz. the prevalence, or lack of, the /r/ sound in speech] in wedding-consultants' speech could be correlated with the amount of money a bride states she is willing to spend on her wedding dress. That is to say, the amount of money she has at her disposal, used as a measure of her (perceived) social status. The paper, in the Journal of English Linguistics, June 2015, 43: 118-142, can be downloaded here for US$30: Maeve Eberhardt & Corinne Downs, "'(r) You Saying Yes to the Dress?' Rhoticity on a Bridal Reality Television Show", Journal of English Linguistics 2015.
Or you can deprive Sage Publications of their  $30, and get a report about the same research for free in an earlier version: Maeve Eberhardt & Corinne Downs, "A Department Store Study for the 21st Century: /r/ vocalization on TLC's Say Yes to the Dress", NWAV 2013.
The NWAV 2013 paper's abstract:
This paper focuses on /r/ vocalization on the reality television show Say Yes to the Dress, which features an upscale bridal salon in New York City. The study examines five bridal consultants working at Kleinfeld Bridal in Manhattan. Using the brides' budgets as a proxy for social status, we investigate whether variation in consultants' use of /r/ correlates with the amount of money brides state they are willing to spend on their dress, which ranges from $1,000 to unlimited. A mixed-effects model in Rbrul shows significant differences across three budget categories. We argue that although there are important methodological differences, our findings parallel Labov's original department store study as well as later replications. Additionally, qualitative examination of show excerpts suggests that variation in /r/ may be recruited in performing particular interactional roles, as consultants use clusters of [r-1] or [r-0], depending on the positioning taken in a given interaction.
The Say Yes to the Dress effects seem to be substantially smaller than the department-store effects, though — here are the results of three "rapid anonymous surveys" of employees at three stories differing in socio-economic status: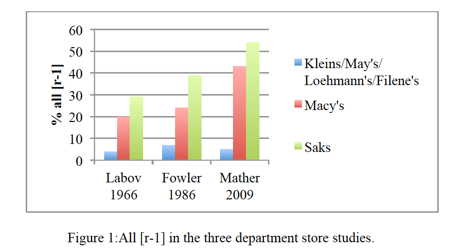 The basic technique was to ask the employees something like "where can I find X?", where the experimenter knew in advance that X was located on the fourth floor.
And here's the table of Kleinfeld consultant's rhoticity as a function of bride's budget:

Presumably the department-store effect is greater because the employees at Saks vs. Kleins etc. are selected (or osmotically trained) to speak in a consistent style, whereas Kleinfeld's consultants are modulating their speech style to suit their perception of customer's status, in a situation where even the lowest-level customers are spending a lot of money.
(And also, the "fourth floor" context is one that tends to maximize /r/ vocalization, whereas the Say Yes to the Dress data covers a larger range of syllable-final /r/ words.)
---