« previous post | next post »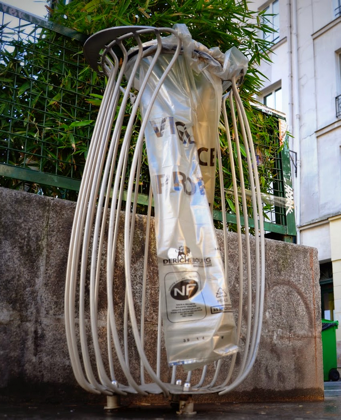 The trash receptacles on Paris streets consist of suspended transparent plastic bags, printed with two words in large black letters: VIGILANCE (= "vigilance") on top, and PROPRETÉ (= "cleanliness") underneath.
The bags used to be green, but are now clear — and the container of curved metal spokes is new — but the VIGILANCE / CLEANLINESS message has been there for while. And to the extent that I noticed it, I interpreted this motto as a quaint cultural survival, some long-ago authority figure wagging a monitory textual forefinger at the prospect of litter.
But another ubiqitous bit of current Parisian signage is the Vigipirate notice:
The accompanying text makes it clear that this is an anti-terrorist warning. The "vigipirate" neologism always makes me think of le capitaine Haddock, for some reason: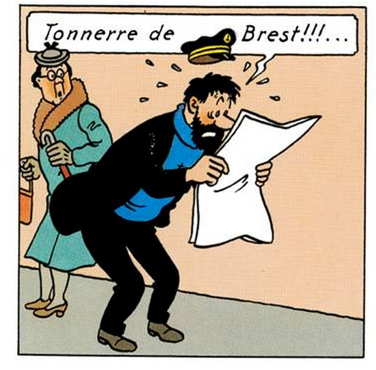 But anyhow, about the ten thousandth time that I processed the "vigi-" back-formation, it occurred to me to wonder whether the trash-can signage was connected socio-politically as well as morpho-phonologically.  And indeed the French Wikipedia article on sac-poubelle (= "garbage bag") explains that
… l'application du plan Vigipirate a entraîné en France l'utilisation dans les lieux publics de sacs transparents, dissuadant ainsi d'éventuels terroristes d'y déposer un paquet suspect.
… the application of the Vigipirate plan brought to France the use in public places of transparent [trash] bags, thereby dissuading would-be terrorists from placing suspicious packages in them.
The name "Vigipirate" seems to date from 1995, and the transparent trash bags were apparently a response to a trash-can bomb in that year (Marlise Simons, "Bomb near Arc de Trimphe Wounds 17", NYT 8/18/1995).
So much for my image of a stern 19th-century administrator urging us to watch out for litterbugs.
Also, poubelle turns out to be the name of the person (Eugène Poubelle) who introduced garbage cans to Paris. So it might have been M. Poubelle who counseled vigilance. But it wasn't.
---