« previous post | next post »
Here's a sign for a McDonald's in the Guangzhou (Canton) Airport: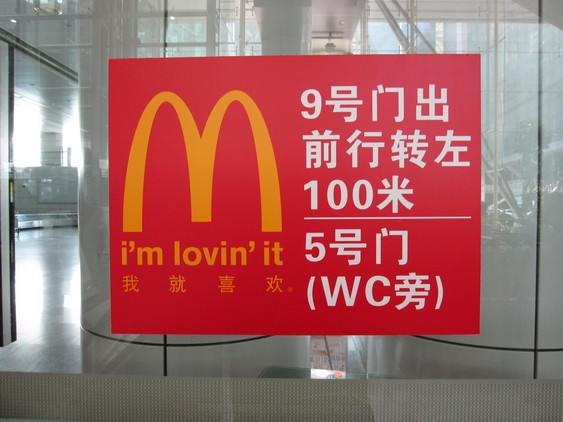 The English slogan, "i'm lovin' it," is followed by the standard Chinese version:  "WO3 JIU4 XI3HUAN1 我就喜歡 ("I just love [it])."  To the right of the arches and the slogan, the sign gives directions for how to get there:  "Go out at gate 9; walk forward, turn left, 100 meters (not "100 rice" for "100 MI3 米," though I have seen such translations on Chinglish signs), at gate 5 (next to the WC)."
As Stefan Krasowski, a Wharton grad working in China who sent me the message wrote:  "Great marketing: 'Yes, I'd like to eat at the McDonald's next to the public toilet.'"

Two observations about the language of the directions on the sign:
1. There are no particular Cantonese markers. It would be very rare ever to see any evidence of written Cantonese anywhere in the province of Guangdong (Canton), but one often encounters it in Hong Kong — especially in advertising.
2. WC seems to be a universal symbol that has entered many languages (Chinese, in this case) without the original English ("water closet") from which it derived necessarily being known. I dare say that many English speakers who freely use the abbreviation WC are not entirely certain of its origin, or at least not of the meaning of "water closet."
From the Wikipedia article on the "Flush toilet":
The term "water-closet" was the original term for a room with a toilet. Originally, the term "bath-room" referred only to the room where the bathtub was located, which was usually a separate room, but this connotation has changed. The term "water closet" was probably adapted because in the late 1800s, with the advent of indoor plumbing, many a toilet displaced many an early clothes closet, closets being shaped to easily accommodate the spatial needs of a commode.[citation needed] The term "water closet" is still used today in some places, but it often refers to a room that has both a toilet and other plumbing fixtures such as a sink or a bathtub. Plumbing manufacturers often use the term "water-closet" to differentiate toilets from urinals. American plumbing codes still refer to a toilet as a "Water Closet" or a "WC". Many South American countries refer to a toilet as a "Water" which is now a term commonly found in Spanish dictionaries, and which derives from the British term "Water Closet".
In any event, a "water closet" is not exactly the same thing as a "closestool," an obscure term that we have discussed before on Language Log.
McDonalds has adapted the English slogan "i'm lovin' it" for marketing campaigns in many other countries, including  (following another Wikipedia article)  Denmark, Guam, Japan, Australia, Austria, Sint Maarten, United Kingdom, Hong Kong, The Bahamas, New Zealand, Ireland, Austria, Belgium, Singapore, Malaysia, Taiwan, Andorra, Thailand, Luxembourg, Italy, Serbia, South Korea, France, Hungary, Kazakstan, Russia, People's Republic of China, Indonesia, Sweden, Greece, Czech Republic, Poland, Monaco, Brunei, Yemen, Morocco, Northern Mariana Islands, Iceland, Israel, Slovenia, Kuwait, New Caledonia, Oman, Bulgaria, Norway, Bahrain, Latvia, United Arab Emirates, Estonia, Romania, Malta, Slovakia, South Africa, Qatar, Croatia, Samoa, Fiji, Liechtenstein, Lithuania, India, Jordan, Dominican Republic, Belarus, Cyprus, Macedonia, Isle of Man, Suriname, Moldova, Lebanon, Pakistan, Sri Lanka, Georgia, San Marino, Gibraltar, Azerbaijan, American Samoa, Mauritius, Montenegro, Portugal, Spain, Austria, Switzerland, and Finland.
Perhaps getting the nuances of the short American English slogan ("i'm lovin' it") just right proved too challenging for some, so they adopted the English version outright. (For the Japanese, though, it would be hard to pronounce the initial "l" of the second word.) Judging from the following translations into other languages, it would seem that few were very successful in capturing the flavor and meaning of the English:
German   ich liebe es "I love it"
Arabic   أنا أحبه (ana uħibbuhu) or اكيد بحبه (akid behibuhu)   "I love it. / Of course I love it"
French   c'est tout ce que j'aime "It's everything that I love"
Canadian French   c'est ça que j'm "That's what I love. (j'm = j'aime.)"
Canadian French   J'm "I love. (Written with golden arches for the m.)"
Taglish (Tagalog-English)   love ko 'to "I love this. ('to = ito)"
Spanish   me encanta "I love it. (lit. It enchants me.)"
Chilean Spanish   me encanta todo eso "I love all that. (lit. All that enchants me.)"
Brazilian Portuguese   amo muito tudo isso "I love all this a lot"
Turkish   işte bunu seviyorum "This is what I love"
Russian   вот что я люблю "That is what I love"
Ukrainian   я це люблю "I love this"
Latvian    man tas patīk "I like it"
Advertising slogans characteristically rely on catchy, memorable expressions that push the boundaries of formal language. Trying to capture that sort of grammatical insouciance in another language may sometimes be too much to ask. Another example is the Nike slogan "Just do it." The Chinese web is full of discussions about what this slogan means and how to translate it. Here's just one example.
---