« previous post | next post »
Peter Baker, "How Obama Came to Plan for 'Surge' in Afghanistan", New York Times, 12/5/2009:
The leak of Ambassador Eikenberry's Nov. 6 cable stirred another storm within the administration because the cable had been requested by the White House. The National Security Council had told the ambassador to put his views in writing. But someone else then passed word of the cable to reporters in what some in the process took to be a calculated attempt to head off a big troop buildup.
The cable stunned some in the military. The reaction at the Pentagon, said one official, was "Whiskey Tango Foxtrot" — military slang for an expression of shock. Among the officers caught off guard were General McChrystal and his staff, for whom the cable was "a complete surprise," said another official, even though the commander and the ambassador meet three times a week.
"Military slang for an expression of shock". Right.
WTF is apparently on the NYT no-no list, since the archives since 1981 yield only one hit: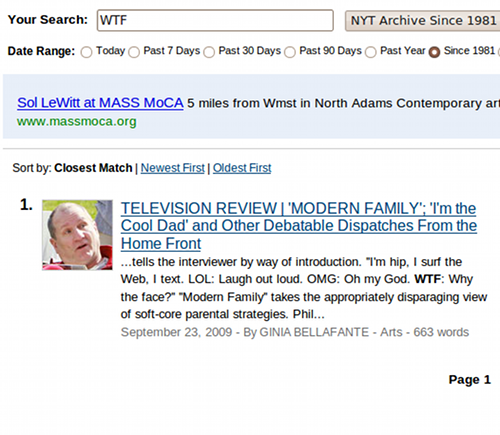 And the link for that hit is dead. (There are plenty of examples of WTF in blogs, online comments, and The Local. But it's quaintly endearing that when it comes to print, the Gray Lady continues to hold the line against ordinary acronymic allusions to taboo words.)
[Update: for some relevant discussion, see Ben Zimmer's post "The inherent ambiguity of 'WTF'", 9/24/2009.]
---