« previous post | next post »
Chris at The Lousy Linguist takes up an implicit challenge due to Edward Skidelsky, "Words that think for us", Prospect Magazine, 11/18/2009, who wrote:
No words are more typical of our moral culture than "inappropriate" and "unacceptable." They seem bland, gentle even, yet they carry the full force of official power. When you hear them, you feel that you are being tied up with little pieces of soft string.
Inappropriate and unacceptable began their modern careers in the 1980s as part of the jargon of political correctness. They have more or less replaced a number of older, more exact terms: coarse, tactless, vulgar, lewd. They encompass most of what would formerly have been called "improper" or "indecent." An affair between a teacher and a pupil that was once improper is now inappropriate; a once indecent joke is now unacceptable.
Chris observes that
This article makes four testable linguistic claims:

The words inappropriate and unacceptable have increased in frequency over the last couple decades.
This frequency increase is due to replacing other words:coarse, tactless, vulgar, lewd, improper, and indecent.

These other words are "older"

These other words are "more exact"
And he does a great job of using Mark Davies' Time Magazine corpus to check the first two claims, producing a table and graph of word frequencies by decade. You should go read it.
Since Chris already got the numbers, I couldn't resist graphing them in a slightly different way, adding up the frequencies of the two alleged representatives of the "jargon of political correctness" and the six "older, more exact" terms: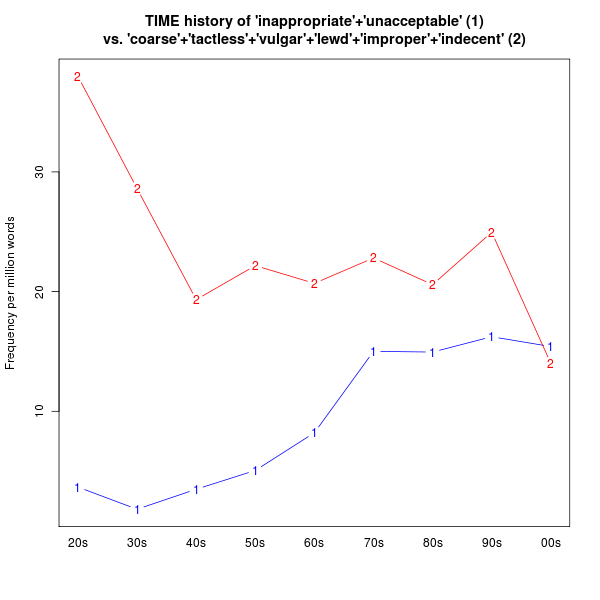 I put a link to this graph in a comment on Chris's post last night, and he added some discussion in the body of his post.
Our exploration of this topic is limited at best: TIme magazine is not an adequate mirror of the language and culture as a whole; the semantic field that Skidelsky waves his hand at includes more than eight words; words that name concepts in that field (e.g. coarse) may have common meanings other than the moral or aesthetic evaluations that Skidelsky has in mind; and so on.
But people with a nose for trends should be sniffing the air. There are two things worth noting about this relatively trivial little exercise.
First, as Chris points out, it's now starting to be possible to get quantitative information, relatively quickly, about the distribution of linguistic features in space and time and society.  Words and word sequences are easiest and first, but in the not-too-distant future less superficial characteristics will be accessible as well. (Mark Davies already allows users to break searches out by genre, and makes part-of-speech tags and lemmas available for search — if there were only a usable standard for sense disambiguation, for example, his back-end search engine could easily offer that as well.)  This opens up a new source of information about cultural as well as linguistic history. Or rather, it becomes possible to access such information in minutes rather than hours or years of work.
Second, some new modes of intellectual discussion are starting to emerge, based on the ability to share and discuss data in the context of rapid forms of publication. Again, this is not really different in kind from the way that people have interacted for centuries, except that now it can happen in the course of hours rather than months or years.  How this will develop, and into what, isn't clear yet. But it's going to go somewhere.
---