« previous post | next post »
Today's xkcd: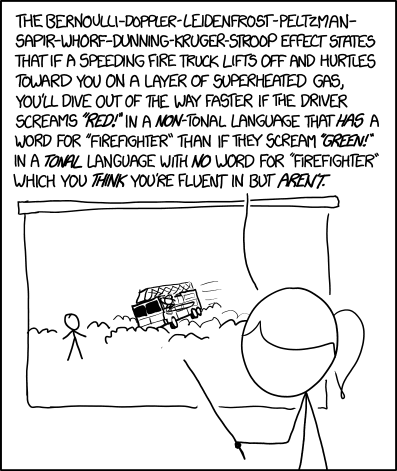 Definition of a liberal education: What you need to learn in order to get this joke.
To wit: the Bernoulli effect; the Doppler effect; the Leidenfrost effect; the Pelzman effect; the Sapir-Whorf hypothesis; the Dunning-Kruger effect; the Stroop effect. Seems like the Coriolis effect, the Meissner effect, the Flynn effect, and the Hawthorne effect could be worked in there somewhere as well.
This curriculum is a little light on the humanities — though it's been a while since humanists invented things like Grimm's Law. And it privileges principles associated with proper names, over important ideas like the greenhouse effect, the placebo effect, the domino effect, the butterfly effect, the halo effect, etc.
---