« previous post | next post »
The 4/30/2015 Pie Comic: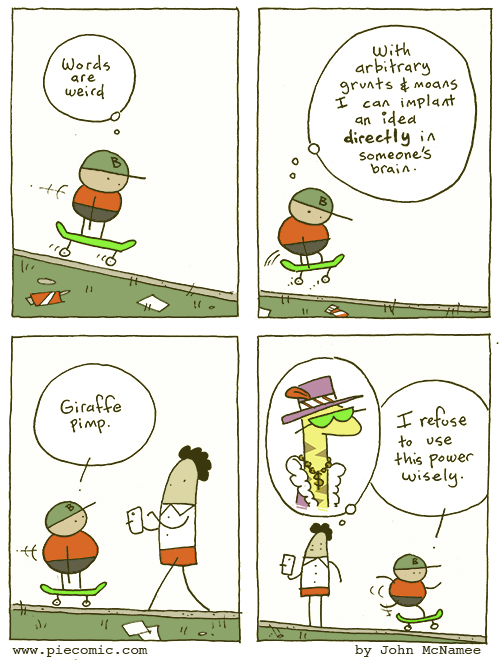 [h/t George Kesteven]
The end of Borges' essay "El Idioma Analítico de John Wilkins":
Esperanzas y utopías aparte, acaso lo más lúcido que sobre el lenguaje se ha escrito son estas palabras de Chesterton: "El hombre sabe que hay en el alma tintes más desconcertantes, más innumerables y más anónimos que los colores de una selva otoñal… cree, sin embargo, que esos tintes, en todas sus fusiones y conversiones, son representables con precisión por un mecanismo arbitrario de gruñidos y de chillidos. Cree que del interior de un bolsista salen realmente ruidos que significan todos los misterios de la memoria y todas las agonias del anhelo" (G. F. Watts, pág. 88, 1904).
Leaving hopes and utopias apart, probably the most lucid ever written about language are the following words by Chesterton: "He knows that there are in the soul tints more bewildering, more numberless, and more nameless than the colours of an autumn forest… Yet he seriously believes that these things can every one of them, in all their tones and semitones, in all their blends and unions, be accurately represented by an arbitrary system of grunts and squeals. He believes that an ordinary civilized stockbroker can really produce out of his own inside noises which denote all the mysteries of memory and all the agonies of desire" (G. F. Watts, page 88, 1904).
---