« previous post | next post »
The hardest part of learning Chinese is mastering the thousands of characters that are necessary for full literacy. The spoken language, in contrast, is relatively easy to acquire. A good teacher who employs benign pedagogical methods can have students conversing quite fluently within a year or two. By "benign pedagogical methods" I mean focusing on pronunciation, vocabulary, grammar, and patterns (phrases, clauses, sentences – through build-up drills, substitution drills, etc.). Unfortunately, all too many Chinese language teachers crush the enthusiasm and the confidence of beginning and intermediate students by requiring that – almost from the start – they arbitrarily learn dozens or scores of characters every month.
From the very beginning of my own Chinese language learning experience nearly forty years ago, I have staunchly opposed this over-emphasis on brute force memorization of characters. Rather, I advocate what I call "learning like a baby" as much as possible. Namely, let students naturally become familiar and comfortable with the basic expressions, structures, and intonations of the language. After acquiring this solid foundation, then gradually introduce characters in a systematic fashion, one that is directly linked to words and expressions, not as isolated morphosyllables.
Unfortunately, most of us are adults or teenagers (post-puberty, at any rate) before we embark on our Chinese language learning quest. Furthermore, we do not live in a Chinese language environment, so that makes it all the harder to "learn like a baby." As we say in Mandarin, ZE(N)3ME BAN4? ("What to do?")
The solution is actually rather simple. In the first stage of learning Chinese, use romanization only. The big problem, then, is how to make the jump from reading and writing romanized texts to reading and writing character texts. Do not despair! There is a reasonable, effective way out of the romanization-character dilemma, viz., phonetically annotated character texts. Phonetic annotation of characters is the bridge that crosses the divide between romanization and characters.
It just so happened that I found myself in Taiwan for an extended stay (two years) at the moment when I needed to cross the gulf between spoken fluency in Mandarin and literacy in written Chinese. I was most fortunate to come across a marvelous publication called Guoyu Ribao (Mandarin Daily News) that presented a broad selection of interesting materials (news, poetry, fiction, drama, essays, science and technology reports, recipes, games, and so on) with each character having its sound annotated in National Phonetic Symbols (ZHUYIN FUHAO or BOPOMOFO).
[Click for full page] [Click for close-up]
Guoyu Ribao was a godsend in that it enabled me to learn Chinese characters passively and painlessly. By assimilating massive amounts of publications from the Guoyu Ribao people, before long I was able to read texts without phonetic annotation. Slowly, with practice, I also became capable of writing in characters as well.
I should note that I used a similar method in learning Japanese by relying on texts with furigana phonetic annotation. My motto is to avoid masochism whenever possible, particularly when learning languages written in Chinese characters.
What prompted me to write this post is the wonderful news that we now have a publication in North America that aims to be the pinyin counterpart of Guoyu Ribao. It is called the Huayu Xuebao (Mandarin Learning Newspaper), and it looks like this: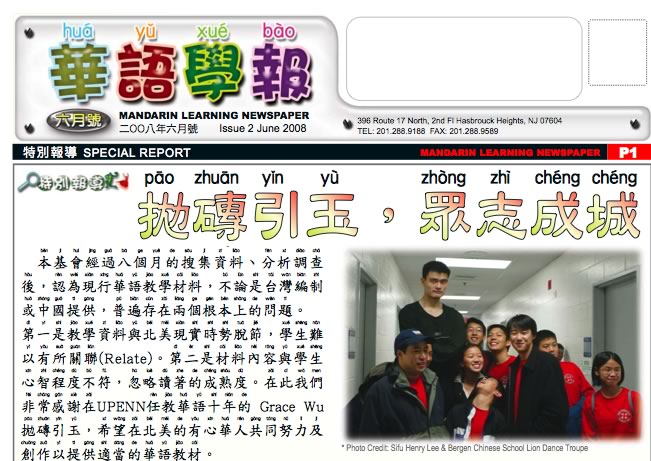 [Click here for a .pdf of a sample page.]
I can't tell you how many times during the past three decades I have begged and pleaded with publishers and pedagogs in China to produce such materials for Chinese language learners utilizing pinyin. I am both proud and surprised to discover that the first serious – and I hope sustained – venture in this direction has taken place right in my own backyard. One of our staunchest Mandarin teachers at Penn, Grace Wu (who also teaches Taiwanese and whose father was a distinguished teacher of Taiwanese), is one of the guiding lights behind Huayu Xuebao. I shall actively support this noble enterprise and will refrain from suggesting that the editors consider the possibility of indicating word segmentation (joining syllables into words and putting spaces between words) until this fledgling publication is securely established.
As a closing footnote, I wish to mention that all students in China begin to read and write through pinyin. During the 80s and 90s (and it still lingers on) there was also a remarkable, large-scale experiment in China called ZHUYIN SHIZI, TIQIAN DUXIE 注音識字提前讀寫 (Phonetically Annotated Character Recognition Speeds Up Reading and Writing) that was carried out in scattered locations across the country (but mostly in the Northeast [Dongbei; Manchuria]). The ZT experiment (as it is called after the first two letters of its constituent clauses) encouraged students to read and write in pinyin for longer periods than was stipulated by the conventional curriculum. In addition, even in higher grades, students were permitted to write words in pinyin when they couldn't remember how to write something in characters (e.g., the devilishly difficult DA3PEN1TI4 ["sneeze"]). The well-documented results of the experiment demonstrate that students enrolled in the ZT curriculum actually learned to read and write characters better and faster than students enrolled in the standard curriculum. John Rohsenow, an emeritus professor of Chinese linguistics at the University of Illinois – Chicago Circle has written a couple of good papers describing the ZT experiment (e.g. John S. Rohsenow, "The 'Z.T.' Experiment in the PRC," Journal of the Chinese Language Teachers Association. 31, 3 (1996): 33-44).
---