« previous post | next post »
A few weeks ago, we featured Elevate Embuggerance and Holistic Feisty, authors (according to Google Scholar) of The Linguistics of Laughter:

Now, thanks to research by Steven Landsburg and Aaron Mandel, we're proud to introduce you to the prolific writer "Ass Meat Research Group", who is listed at amazon.com as the author of 88 books: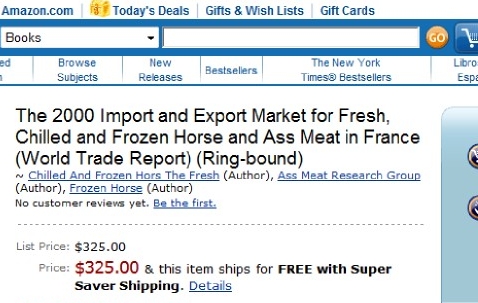 His (their?) frequent collaborators include  "Frozen Horse", who has written 23 books, and "Chilled and Frozen Hors the Fresh", who has written 24. The same circle of writers includes Sheep the Edible Offals of Bovi, and a number of others; we leave the full analysis of this social network to future literary scholars.
Steven's post explains how (most of) this probably happened.  It's clear that there's still some room for improvement in algorithms for automatically parsing biographical records.
[Update: this one has been rattling around the blogosphere for a few years, unknown to me — interesting to see that it still hasn't been fixed.]
---