« previous post | next post »
A few days ago, Kurt Andersen interviewed the novelist Richard Powers on Studio360. You can listen to the whole nine-minute interview here.
In the middle of the interview, Powers breaks into a sequence of declarative phrases with final rising pitch — what's sometimes called "uptalk". Before and after this sequence, which sets the stage for an account of his decision to become a writer, he consistently uses falling patterns. It seems clear that he means the rising contours to have a rhetorical effect. But it's equally clear that the intended effect is not to signal insecurity or to call into question his commitment to the truth of what he's saying. So as part of my on-going campaign to document uptalk — especially non-stereotypical examples — here's a description.
The preceding passage starts this way, with Powers describing why he left physics:
You- you mentioned the- the- the "two cultures" crisis that uh
that Snow put on everyone's agenda but uh
in fact the crisis really is the "million cultures" crisis and uh
how- however much exhilaration I took out of physics, it w- rapidly became clear to me that uh
even two physicists working in closely related fields couldn't always communicate with each other, and- and for me to make any kind of meaningful contribution
would require
a kind of intense specialization, where year after year I learned more and more about smaller and smaller domains, until I was in-
in danger of knowing everything there was about nothing.
Powers goes on to explain why graduate school in literature was also too confining, and continues to use phrase-final falls. Then comes the story of how he decided to write a novel — and right up to the crucial moment of decision, he mostly ends his phrases with rises:
Andersen:
So when you decided OK, this is I- I- I'm not gonna be
uh a scientist, I'm not going to be uh
a literature
teacher
then you- did you just simply make the decision OK I'm going to write novels and
start writing them?
Powers:
The books actually started/
on a Saturday morning/ uh in- in uh nineteen eighty one/
I was living in the Fens/ just behind the Fine Arts Museum/
the- the MFA in Boston/
and there was a- a retrospective exhibition
of the German photographer August Sander.
and I had no prior exposure to this work/
Andersen:
The early 20th century photographer?
Powers:
German photographer from the end of the nineteenth century and early twentieth century um
and uh I remember going into this first American retrospective/
and turning around the corner and/
seeing this magnificent and haunting photograph, of these three young men
in their Sunday best, walking along a muddy road just glancing out over their right shoulder as if
suddenly surprised by the photographer.
Leaning forward, reading the caption on this photo
which read
"three– or three young Westerwald farmers on their way to a dance, nineteen fourteen"
So of course they were not on their way to the dance that they thought they were on their way to/
and just down the road was world war one.
Andersen:
And so you suddenly
had your mission.
Powers:
I did, I- I looked at that photograph/
I had an almost intact story in mind/
this was a Saturday/
on Monday I went in to- to my data processing job/
and gave my two weeks notice.
From then on, Powers reverts to falls.
Andersen:
It sounds as though you had a mission for a career of fiction writing, not just a book.
Powers:
((Well I'm)) I'm not sure it's a mission, I think it's simply
the shape that my own temperament takes.
I'm skeptical that there's any systematic difference between the rises often used with yes/no questions, and the rises used for various other reasons, as in Powers' story.  As an additional andecdotal piece of evidence in this discussion,  here's a comparison (at the scale of  time and pitch display) between the end of Andersen's question and the start of Powers' answer:
Andersen: … did you just simply make the decision OK I'm going to write novels and
start writing them/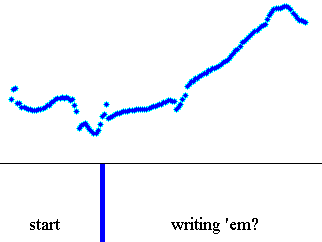 Powers: The books actually started/
on a Saturday morning/ uh in- in uh nineteen eighty one/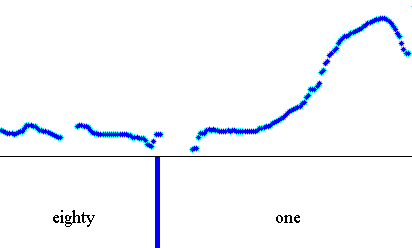 To really address this question in a responsible way, of course, would require comparing the dynamics of  a large number of examples of both kinds, paying careful attention to the alignment of the pitch contour with the syllable sequence and with the amplitude contour. But these are among the many examples that make me doubt that there's a systematic difference in such cases (as has sometimes been suggested) between rises that start at the bottom of the speaker's range and rises that start higher.
You'd also want to try some perception experiments.
Here's the picture, "Three Farmers on Their Way to a Dance":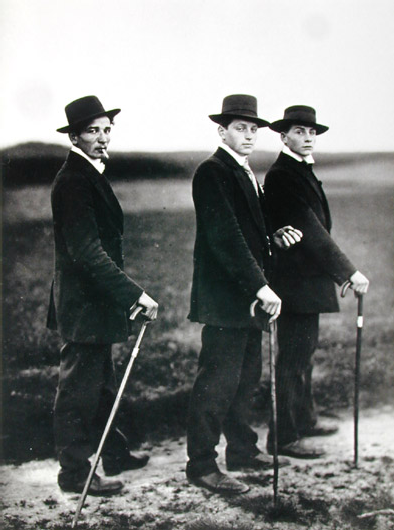 Another version of the story is here, in a 2003 interview published in the Paris Review:
INTERVIEWER
When did you begin your writing career?
RICHARD POWERS
In the early eighties, I was living in the Fens in Boston right behind the Museum of Fine Arts. If you got there before noon on Saturdays, you could get into the museum for nothing. One weekend, they were having this exhibition of a German photographer I'd never heard of, who was August Sander. It was the first American retrospective of his work. I have a visceral memory of coming in the doorway, banking to the left, turning up, and seeingthe first picture there. It was called Young Westerwald Farmers on Their Way to a Dance, 1914. I had this palpable sense of recognition, this feeling that I was walking into their gaze, and they'd been waiting seventy years for someone to return the gaze. I went up to the photograph and read the caption and had this instant realization that not only were they not on the way to the dance, but that somehow I had been reading about this moment for the last year and a half. Everything I read seemed to converge onto this act of looking, this birth of the twentieth century—the age of total war, the age of the apotheosis of the machine, the age of mechanical reproduction. That was a Saturday. On Monday I went in to my job and gave two weeks notice and started working on Three Farmers.
---