« previous post | next post »
When I tried to read Dilbert this morning, comics.com showed me this instead: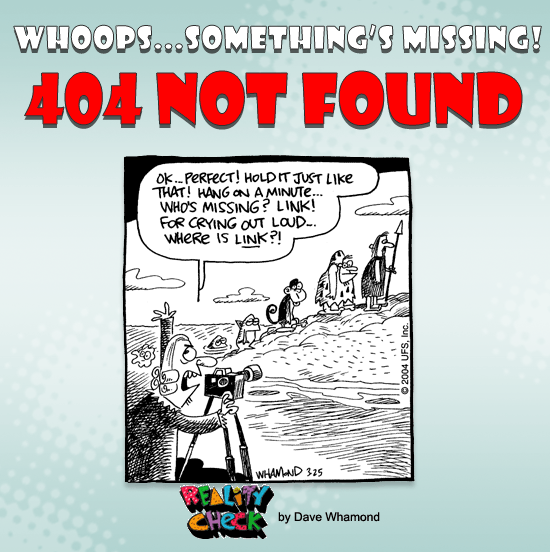 I reckon that the sequence was:
FIrst, discussions of evolution focused on the concept of a "missing link" in the fossil record. According to the OED, this actually began with with a remark about purely geological history:
1851 C. LYELL Elem. Geol. xvii. 220 A break in the chain implying no doubt many missing links in the series of geological monuments which we may some day be able to supply. 1862Caledonian Mercury 11 Jan. 7/6 Until the existence of some animal was discovered which should supply the missing link between man and the gorilla, there was a great gap even in Mr Darwin's theory of the origin of species.
This phrase quickly took on various figurative uses:
1862 G. DU MAURIER Let. Oct. in Young G. du Maurier (1951) 178, I..said that if he would take the trouble to make a post mortem on the Irish roughs I intend to kill next Sunday in the Park, he might convince himself that the 'missing link' had been found.  1863 G. O. TREVELYAN Competition Wallah (1864) v. 113 The performances of these thin-legged, miserable, rice-fed 'missing links' are perfectly inexplicable according to our notions of muscular development. 1904 'O. HENRY' Cabbages & Kings 22 The faces of missing links. 1990 in J. E. Lighter Hist. Dict. Amer. Slang (1997) II. 561/2 No date with the missing link tonight?
(Ben Zimmer discusses the history of the expression in much more detail here.)
Independently , there developed a series of illustrations of evolutionary progress, showing a procession of successively "more evolved" creatures  becoming taller and more erect. (See here for some discussion, with a couple of examples of the many visual puns that have been overlaid on it, and a reference to Stephen Jay Gould's Iconography of an Expectation, which gives a dozen or so more.)
Recently, Dave Whamond created another such visual pun, bringing in an imaginary photographer (in an enlightenment-era wig and lace collar? who is he supposed to be?), and adding the joke that someone named "Link" should have been in the procession, but is "missing". This is a verbal pun on "missing link", and a visual pun on the stereotyped evolutionary-progress image.
FInally, comics.com added another layer of pun, in which "link" is not the evolutionary "missing link", nor the guy named Link missing from the photographer's posed picture, but the "404 Not Found" missing hyper-link to the Dilbert strip that I was hoping to read.
Off hand, I can't think of any similarly dense meta-puns, but no doubt LL readers will be able to fill the gap.
---