« previous post | next post »
A recent xkcd: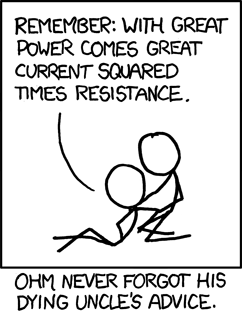 In the case of power, the original ordinary-language meaning is still dominant for most people, especially in a frame like "With great __ comes great __". But it's easy to forget how recently words (and concepts) like speed, distance, and duration took on their current "literal" meanings as aspects of ordinary-language physics rather than as terms referring to prosperity, dissension, endurance, and so on.
The physicists' sense of power as "work per unit time" seems to date from the early 19th century, and the specifically electrical sense, featured in this strip's caption, is somewhat later. But it was only a century or two earlier that today's meanings for words like distance came into general use, replacing earlier meanings that (like power) had more to do with personal struggle than with physical interaction.
---