« previous post | next post »
From Bob Sanders comes this sign at a burger joint in the Melbourne, Australia airport: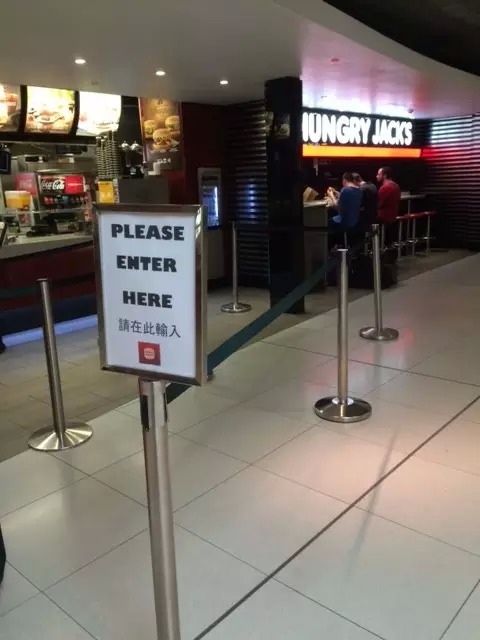 The Chinese says:
qǐng zài cǐ shūrù 請在此輸入
("please enter [text / account number / password / name] here")
Here I give Google Translate a lot of credit, because it knows that you have to enter something after the transitive verb shūrù 輸入:  "Please enter it here".  The other major online translation services just offer "Please enter here" for qǐng zài cǐ shūrù 請在此輸入.
For the intransitive verb "enter" in Mandarin you would say jìnrù 進入.
As a Chinese person might say upon encountering this sign, "Wǒ de gāodé 我的高德!" ("My God!").  It gets really funny when you translate "Wǒ de gāodé 我的高德!" — which is a translation-transcription of "My God!" — back into English:
Baidu Fanyi — "My Gao De"
Bing Translator — "My Gaud"
Google Translate:  "My High German" (!!)
Unnamed friend — "My high virtue"
Be that as it may, all the major online translation services mistranslate "please enter here" with the wrong verb:  shūrù 輸入 instead of jìnrù 進入.
Chinese wags have christened this machine mangled Yīng-shì Zhōngwén 英式中文 ("English style Chinese") as "Eng-nese (Eng[lish-Chi]nese)".
---